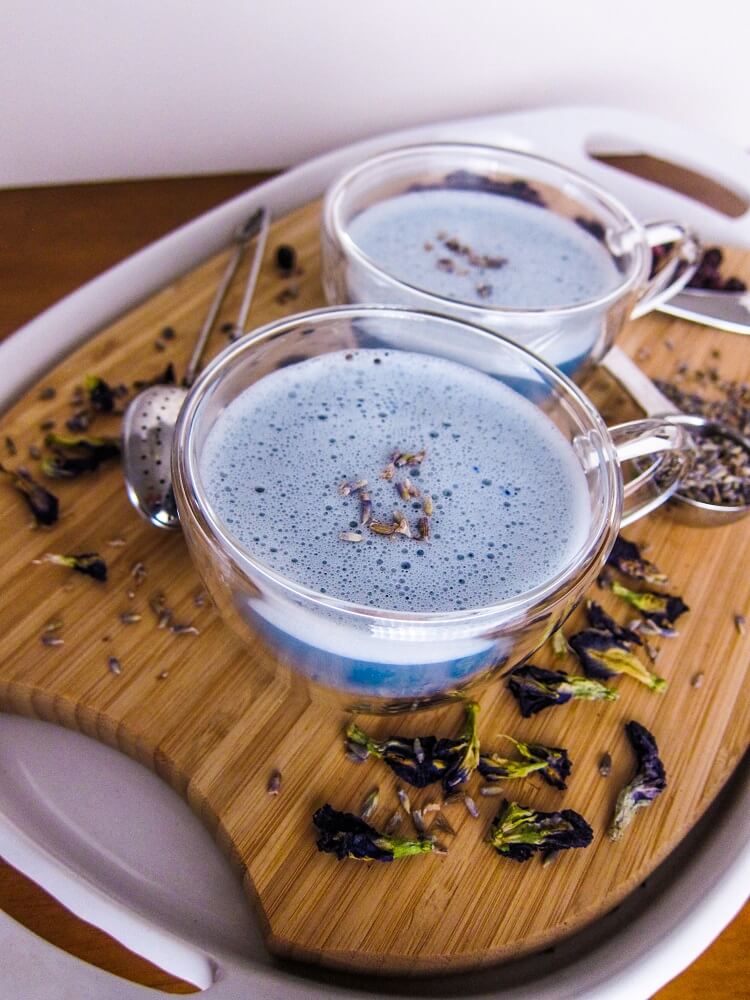 Blueberry Lavender Latte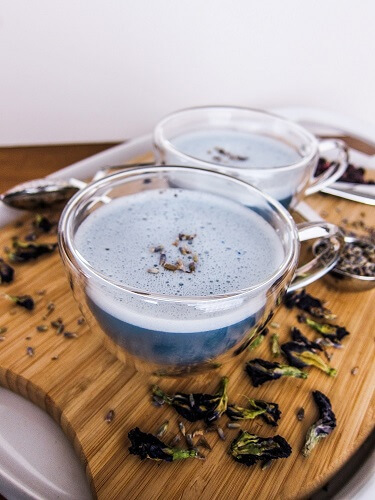 I have been really into lattes lately. Not the ones with coffee, because I am not much of a coffee drinker and if I have coffee in the afternoon when I usually enjoy my lattes I would be up all night. I am talking about tea and herbal lattes! They are amazing and I didn't even realize it until now. I used to be a huge coffee drinker back when I was in my early twenties, and then one day I got sick after having coffee and I couldn't drink it anymore. After that it has been all tea and I love discovering new delicious teas. Matcha is my go to if it is earlier in the day, but I like to get more creative if I am not wanting to have caffeine.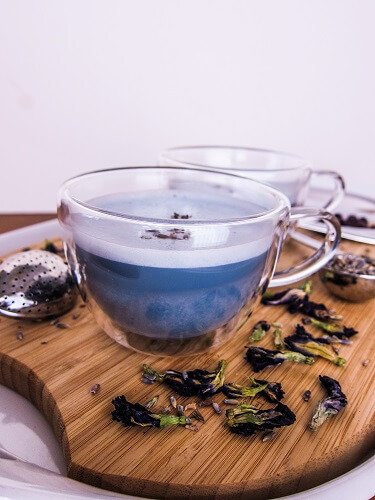 I make golden turmeric lattes a lot, but there is a lavender scented matcha latte that I order a lot at a local coffee shop and I like it so much that I decided that I wanted to use lavender in something at home. What I decided on was a heavenly blueberry lavender latte! Just the sort of thing that is perfect for after dinner when you are relaxing in your pjs after your stressful day!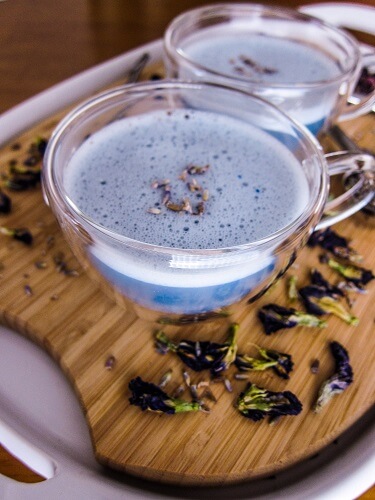 I started off with an oat milk base, because it froths really nicely and it is my favorite plant based milk as of lately. Then I added some freeze dried blueberries (which you can get for a good price at Trader Joe's) because they are little blueberry flavor bombs. I keep them on hand for recipes and they worked perfect for this! Next, some dried lavender flowers to give this drink that aromatic scent that I absolutely love! Also, I added a special ingredient for color that I have been dying to use in a recipe some butterfly pea flowers. They make the prettiest tea that you have ever seen, a vibrant blueish purple color! They were perfect in this recipe!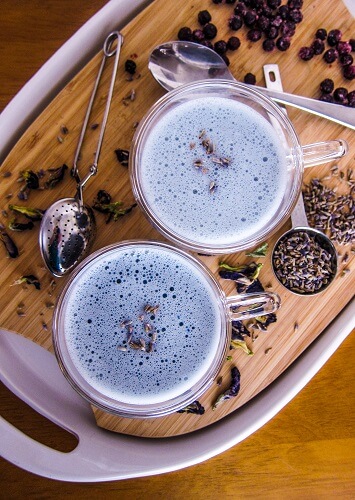 Lastly a little lemon juice and a touch of maple syrup (which is optional if you want it less sweet as I sometimes do). I frothed it up with my immersion blender after I had let the flavors infuse, poured it into my mug and it smelled amazing! Not only that it tasted wonderful as well! Creamy and warming with aromatic calming lavender, sweet blueberries and a hint of lemon. This is the perfect relaxing latte! If you need to chill, give this a try!
Blueberry Lavender Latte
Makes 2
2 cups thick unsweetened oat milk (I used Planet Oat)
2 tsp butterfly pea flowers
1 tsp dried lavender
2 Tbsp dried blueberries
2 tsp maple syrup (optional)
2 tsp lemon juice
Instructions:
Bring the oat milk to a boil in a saucepan, then remove from the heat.
Place the flowers, lavender and berries in a tea infuser and add to the pan, making sure it is submerged.
Let the tea steep for at least 5 minutes to allow the flavors to infuse the tea.
Remove the infuser, add the maple syrup and lemon juice and froth with an immersion blender. Pour into two cups and enjoy!
(Visited 2,619 times, 1 visits today)