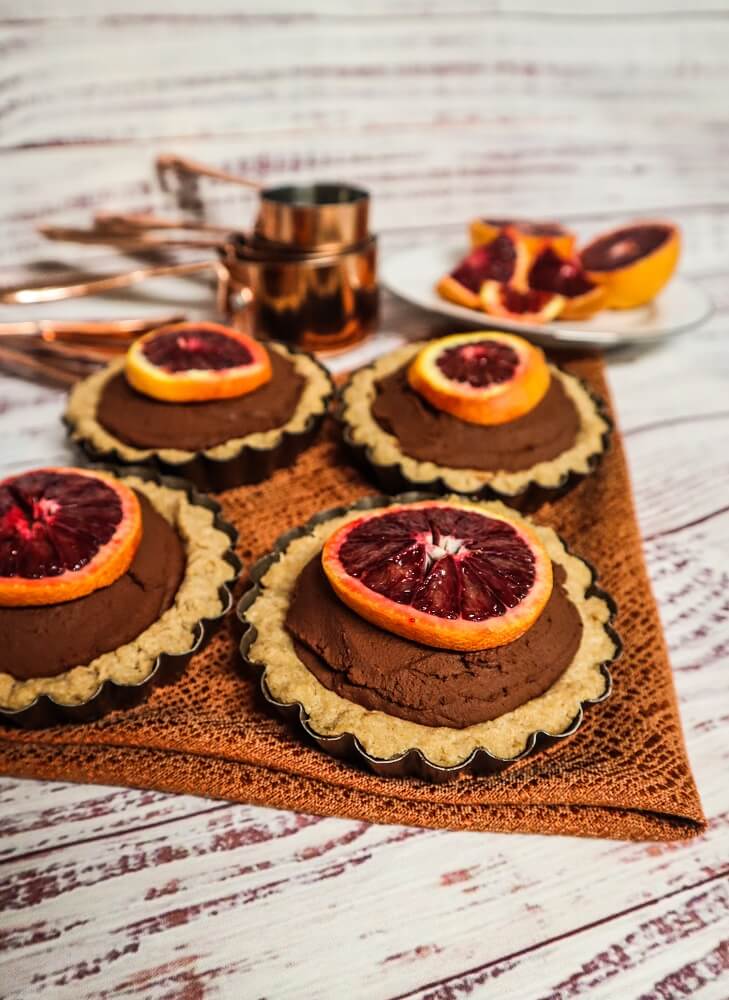 Blood Orange Dark Chocolate Tarts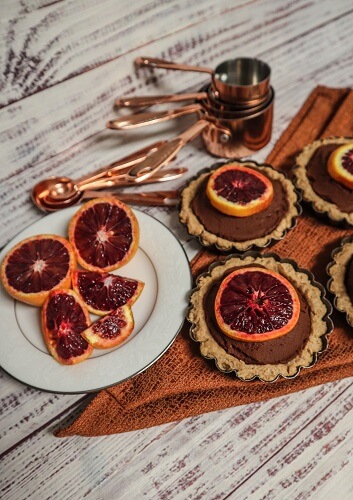 I love blood oranges!  Their sweet flavor, and lovely color are perfect, and they are only available for a short time usually around here, so I always get some when they are available! Surprisingly though, I had not bought any yet this year because I hadn't seen them but when I came across some this week, I bought a bunch!  I couldn't wait to snack on them, but also I wanted to make something with them. I thought a blood orange dark chocolate mousse would be good, but I decided to turn that into a tart filling.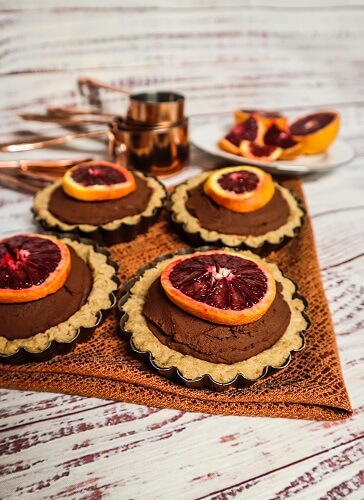 Back in the day I made this really good mousse recipe that was just chilled whipped cream that you folded melted chocolate into and it was the best thing ever. I have since veganized it and I now make it with chilled coconut cream and it turns out just as delicious! For the filling though, to make it blood orange flavored, I added both the juice and zest of blood orange plus a little vanilla and it was perfect!  I could not stop sampling it, it was like the best truffle ever!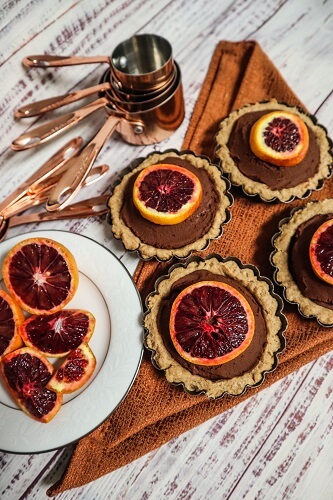 I made some of my classic coconut oil pie crusts, that have a buttery flakey texture and flavor and they were perfect with the filling! Yes I could have gone with a no bake crust but this would be so much better and worth the little bit extra effort, since the filling is so simple. I could not wait to try one! I topped them each off with a blood orange slice.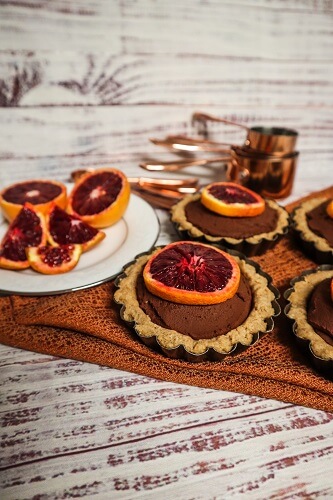 They were heavenly!  The filling was rich and smooth and intensely chocolaty with the sweet scent of orange and vanilla, so good with the rich crust! If you wanted to tone down the intense chocolate you could top it off with some coconut whipped cream.  But I loved it as is!  If you are a chocolate fan, definitely give this a try!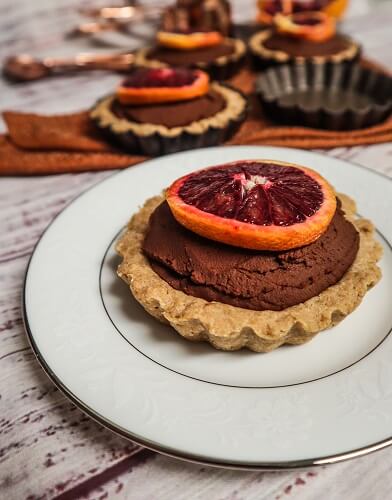 Blood Orange Dark Chocolate Tarts
Makes 4 4 inch tarts
Ingredients:
Crust:
1 cup whole wheat pastry flour
2 Tbsp coconut sugar
1/8 tsp sea salt
1/3 cup coconut oil*
about 2 Tbsp cold water
Filling:
1 cup full fat organic coconut milk, chilled (the thick part from the top of the can)
2 Tbsp blood orange juice and 1 Tbsp blood orange zest
1 cups vegan dark chocolate chips
1 tsp pure vanilla extract
Instructions:
Preheat oven to 375F degrees.
To make the crust, in a large bowl, mix together flour, cacao powder, sugar, and sea salt. Cut in coconut oil with a pastry blender or 2 knives until it is in pea sized pieces. Mix in  just enough water to create a smooth dough that holds together but isn't too sticky. Add more water if needed, and knead slightly until a smooth dough is created.
Divide the dough between 4 small 4 inch tart pans, and press it into the bottom and up the sides to form a crust.  Prick the bottom a few times with a fork, and cover with foil, snugly against the bottom.  Fill with pie weights or dried beans or rice.
Place the tart shells on a sheet pan, then place the pan in the oven, and bake until set, about 15 minutes, then remove the foil and bake until more dry and starting to brown a little, about 20-25 minutes.
Remove from the oven and let cool completely.
For the filling, melt the chocolate in the top of a double boiler, then pour into a glass measuring cup with a spout.
Place the coconut milk, orange zest and juice and vanilla in a food processor and blend until smooth.
Turn the food processor on, and with the motor running, slowly pour the chocolate into it and blend until uniform in color.
Pour the filling over the crust and spread evenly.  Place in the freezer to firm up if not already firm (it doesn't take long usually just 10 minutes or so).
Garnish the top of the tarts with blood orange slices.
Enjoy!
  Tart keeps refrigerated for 1 week in an airtight container.
(Visited 296 times, 1 visits today)