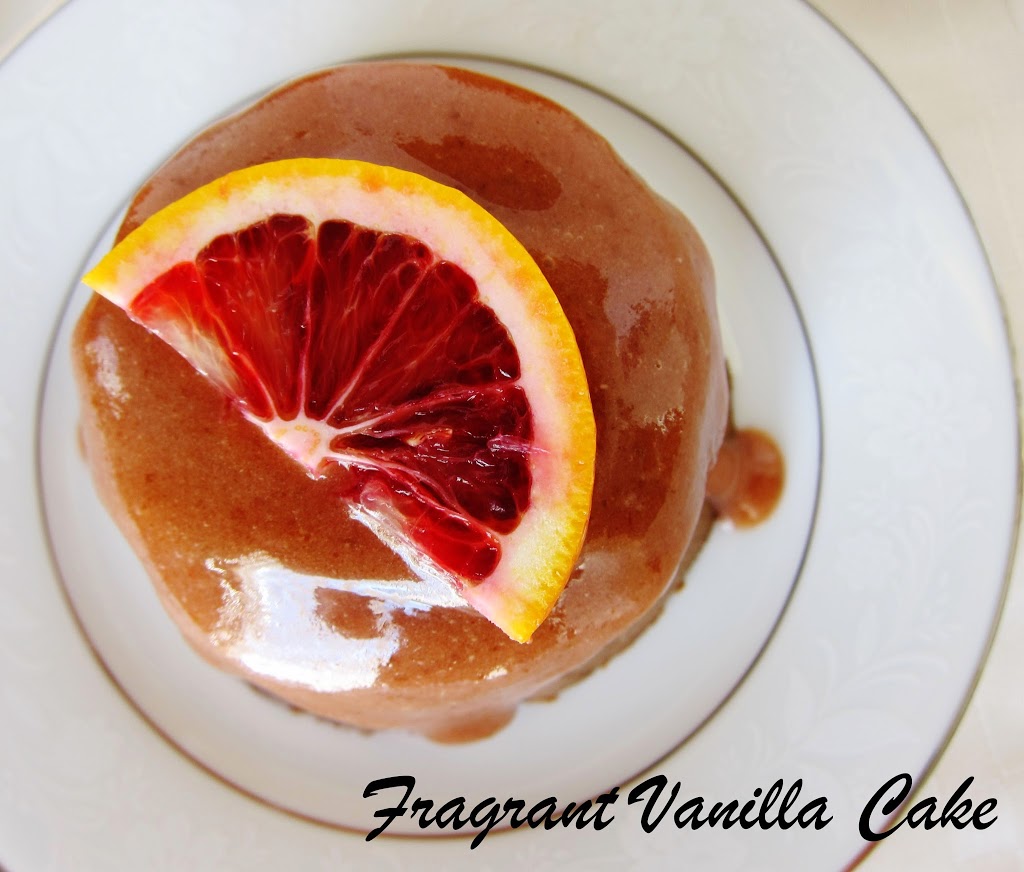 Blood Orange Cacao Crème Caramel
.
I imagined them...silky cacao custard laced with blood orange, and a gooey caramel cascading down it...a heavenly dream of a dessert.  The best part is these are pretty simple to make.  I used avocados to make the custard, because they work wonders in silky chocolate desserts, and added blood orange zest and juice to make it pop.  It was sooo good, even before I placed it into the mold and added the caramel.
I laced the gooey caramel with blood orange as well, and I could not wait to try the custards.  Once these were finished they were simply irresistible!  The tart blood oranges were the perfect thing to add to the rich cacao base and sweet caramel for a balanced dessert.  I had to garnish the top with blood orange as well because they are so pretty!  I hope the blood oranges stick around for a while, so I can make more things with them!
An announcement: A winner for my book givaway has been chosen!  Although I wish I could have sent one to all of you, I had to pick just one, so congratulations to Binny Liu, you have won my Rawlicious Desserts book!  Please either message me on my Fragrant Vanilla Cake Facebook page with your address, or e-mail it to me at fragrantvanillacake@gmail.com.
Blood Orange Cacao Crème Caramel
Makes 4
Chocolate Mousse Filling:
2 cups diced ripe avocados (about 3 medium)
1/4 cup plus 1 Tbsp raw coconut nectar, or your choice of raw liquid sweetener
1 Tbsp orange zest
1/4 cup blood orange juice
1/4 tsp sea salt
1/2 Tbsp pure vanilla extract
1/2 cup  plus 2 Tbsp raw cacao powder
3 Tbsp raw coconut butter, liquefied
Orange Caramel:
1 cup soft medjool dates, pitted (soaked in water for 30 minutes if not soft and drained well)
3 Tbsp raw coconut butter
3 Tbsp maple syrup or raw coconut nectar
1/4 tsp sea salt
1 tsp vanilla extract
1/4 cup orange juice (plus more to thin as needed)
1 Tbsp orange zest
additional blood orange juice
For the caramel, combine all ingredients in a food processor and process until smooth. Line 4 3/4 cup ramekins with plastic wrap, and spoon about 1 Tbsp of the caramel into each, and set aside.
To make the mousse filling, combine all ingredients in a high speed blender or food processor and process until smooth.  Pour into the ramekins over the caramel, and place in the freezer for about 2 hours to set.  Once set, whisk a little more orange juice into the caramel until it is runny.  Unmold the flans onto plates and spoon the runny caramel over them.
(Visited 91 times, 1 visits today)