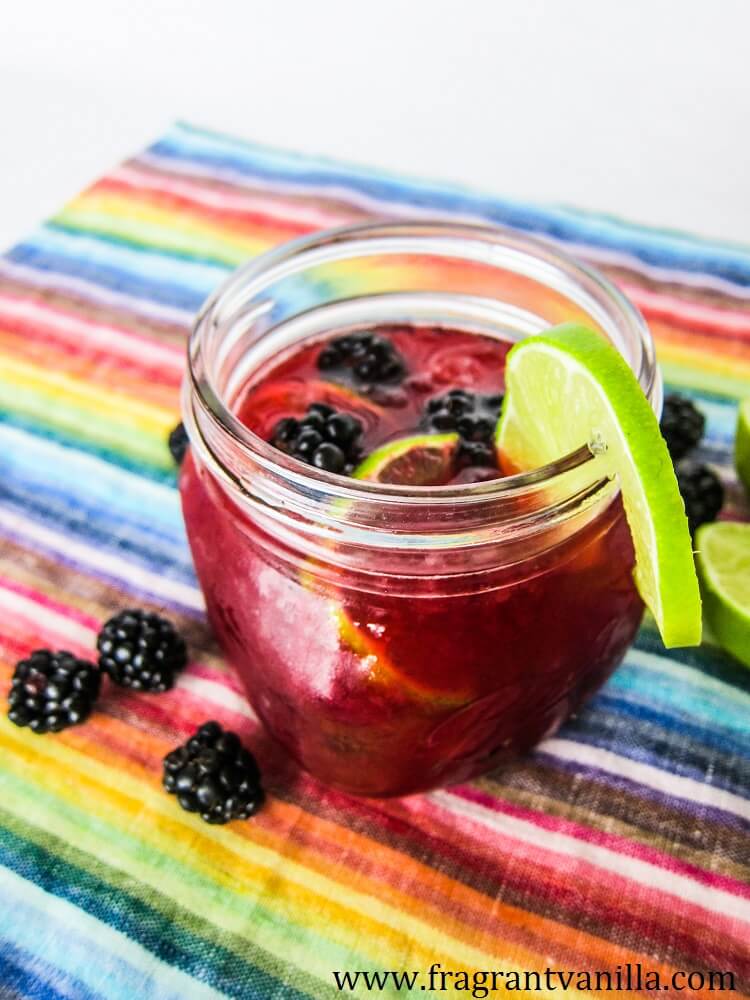 Blackberry Lime Margarita
Last weekend was pretty warm here.  It kind of came as a shock to the system and I didn't realize it until I went on a long run and felt pretty overheated after. I guess I am used to it being in the 40's and 50's in the morning and not weather that makes me start sweating in the first minute.  But even if it is not perfect running weather, it is perfect patio weather and perfect weather for sipping margaritas.  I had some blackberries left over from my tart I made for Mother's Day, so I decided that I wanted some blackberry margaritas!  I never got my Cinco de Mayo margarita, so I figured I deserved one, and a good one at that!  I have never been one to enjoy margaritas made with mixes and lots of sugar along with the tequila, instead I love the ones made with actual fruit.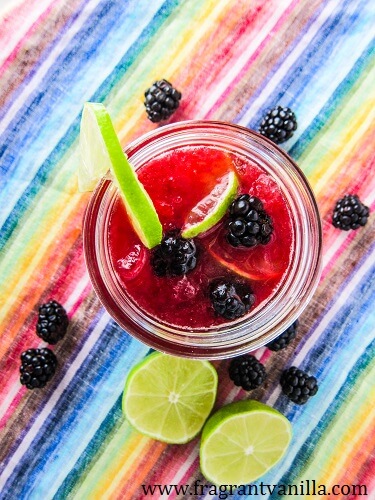 One of the best margaritas I have ever had, I enjoyed in New Orleans at a Mexican restaurant where they juiced their own fruit and it tasted amazing!  That actually happened to be a carrot margarita and it was honestly the best one I have ever had!  I have made that one at home as well, and I shall have to share it sometime, but for now I am sharing the blackberry because it was just as good.  When I first started making margaritas, I admit they weren't very balanced and good, but I think I have gotten the hang of it 10 years later.  Partly with the help of my Mom, she is really good at mixing an awesome margarita.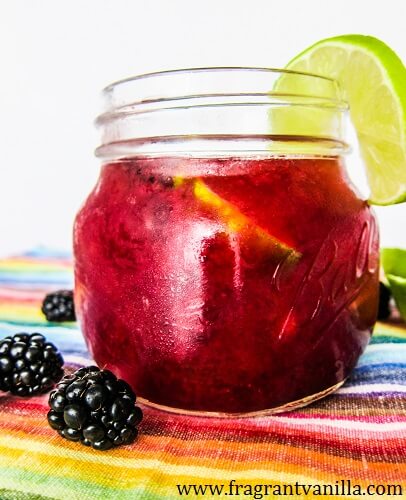 For these ones, I used just fresh blackberries, lime juice, tequila and a home made vanilla syrup.  It was very refreshing and delicious and I shared some with Eric when he got off work and he was excited about it as well!  This is the perfect drink for when it feels like Summer!  I hope you are all having a wonderful week!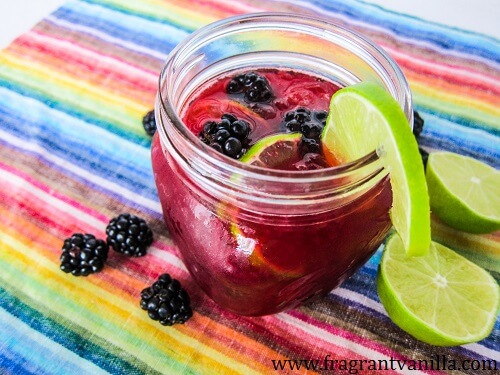 Blackberry Lime Margarita
Makes 1
Ingredients:
6 large ice cubes
4 oz tequila blanco
2 oz blackberry puree
1 oz fresh lime juice
1 1/2 oz vanilla syrup*
ice for serving
Directions:
To make drink, in a martini shaker add the ice, tequila, berries, lime juice, vanilla syrup, and place top on shaker.
Shake until well blended.
Pour the drink through a strainer into the prepared glass (with some ice in it if you prefer your drink on the rocks), and serve!
*Vanilla syrup
1/4 cup maple syrup
1/4 cup filtered water
1 vanilla bean pod, split lengthwise
Combine all ingredients in a jar, put the lid on and shake to dissolve syrup. Let sit at least a day to infuse, then strain to vanilla bean pod. Store in the fridge for up to a month.
(Visited 47 times, 1 visits today)