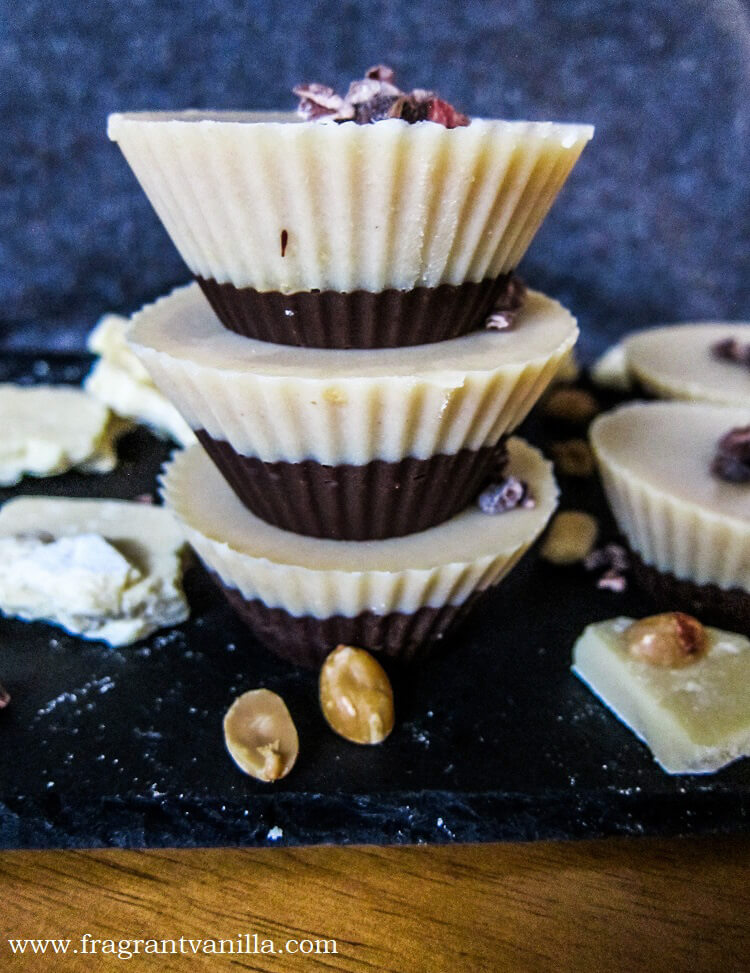 Black and White Peanut Butter Cups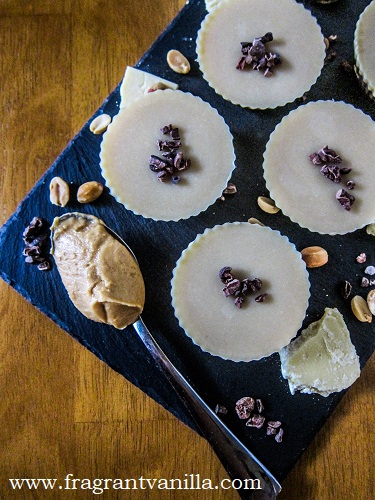 It is no secret that I love chocolate and peanut butter together.  I have about 50 chocolate and peanut butter recipes on this blog.  Yes, I am a little, obsessed.  Or maybe I just know what I like, and I figure that some of you out there have a similar mind set when it comes to the combo.  Reese's peanut butter cups were my all time favorite candy as a kid, so my love for chocolate and peanut butter started early.  Whenever I would see them at the store, I would beg for my Mom to buy some.  Also, they were the candy I got excited about at every holiday.  Those big giant egg shaped ones for Easter, the single ones for Halloween, which I would trade my other candy for, and of course the red and green wrapped ones for Christmas.  You know what was really exciting to me though?  When they came out with the white and dark chocolate ones back when I was still in high school.  I worked at Michael's Arts and Crafts at the time, and we had a vending machine in the break room with those in there, and every time I went on break I would buy some.  It made the day more exciting.  Yes, I get pretty motivated by food. The white chocolate ones were my favorite at the time.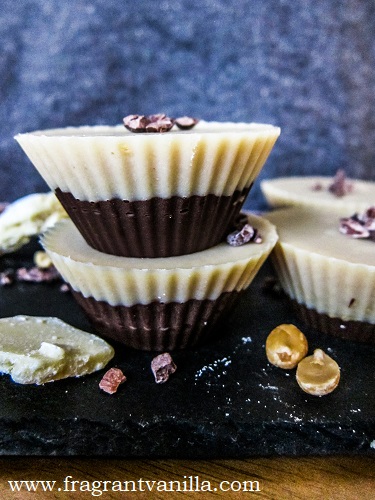 Now of course I do not buy commercially made peanut butter cups like that, because they are usually not vegan, they contain artificial ingredients and lots of sugar.  But that doesn't mean I don't still get to enjoy peanut butter cups.  I make my own!  It is much more fun, and that way I can choose which ingredients go into them. I saw some at the gas station, and it made me want some so of course I had to make some. I couldn't decide between white chocolate and dark, so I decided to make black and white peanut butter cups and get the best of both worlds!  I made my own home made white chocolate, a melt in your mouth delicious concoction made with real cacao butter (unlike a lot of commercial white chocolate that substitutes cheap fat instead), coconut butter and cashew butter (for creaminess).  It is so good, and I think I like it even better than the white chocolate I ate growing up.  For the dark chocolate I decided to melt down some vegan dark chocolate chips that I had on hand.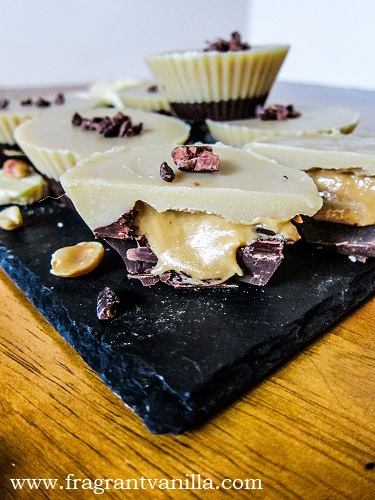 I used my own home made peanut butter for the filling (one very important staple in my kitchen that I make weekly), and I did not add anything to it.  I figure the chocolate parts of the cup are sweet enough, and I wanted the center to just be salty, rich and delicious.  They turned out sooo good!  The light and dark chocolate tasted amazing together and the salty gooey peanut butter was just the thing to pair them with.  As a side note, I know I have been making a lot of chocolate recipes lately, but that is a good thing, right?  I have a funny reason why too. I found 2 bags of cacao butter in the back of my cupboard on the top shelf where I can't reach, and I had bought a third...so I figure what better way to use it then to make chocolate?! If you are a big peanut butter cup fan like me, give these babies a try!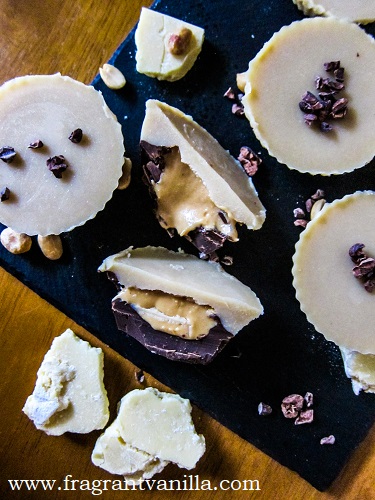 Black and White Peanut Butter Cups
Makes 12 large cups
Chocolate:
1 1/2 cups vegan dark chocolate chips, or vegan dark chocolate chopped
White Chocolate:
Filling:
1/3 cup organic peanut butter*
Instructions:
Melt the dark chocolate in the top of a double boiler until smooth.
Spoon a little chocolate into the bottoms of 12 peanut butter cup molds, filling them about 1/4-1/3 full.  Place in the freezer until hard, about 10 minutes.
Combine cacao butter, cashew butter, vanilla, maple syrup,  and sea salt over a double boiler, and whisk until smooth.
Spoon a heaping 1 tsp of the peanut butter over the hardened dark chocolate layer, then pour the white chocolate over it in the cups until the peanut butter is covered, and place them in the freezer until set, about 20 minutes.
Enjoy! Store any extra in the refrigerator.
*
(Visited 210 times, 1 visits today)