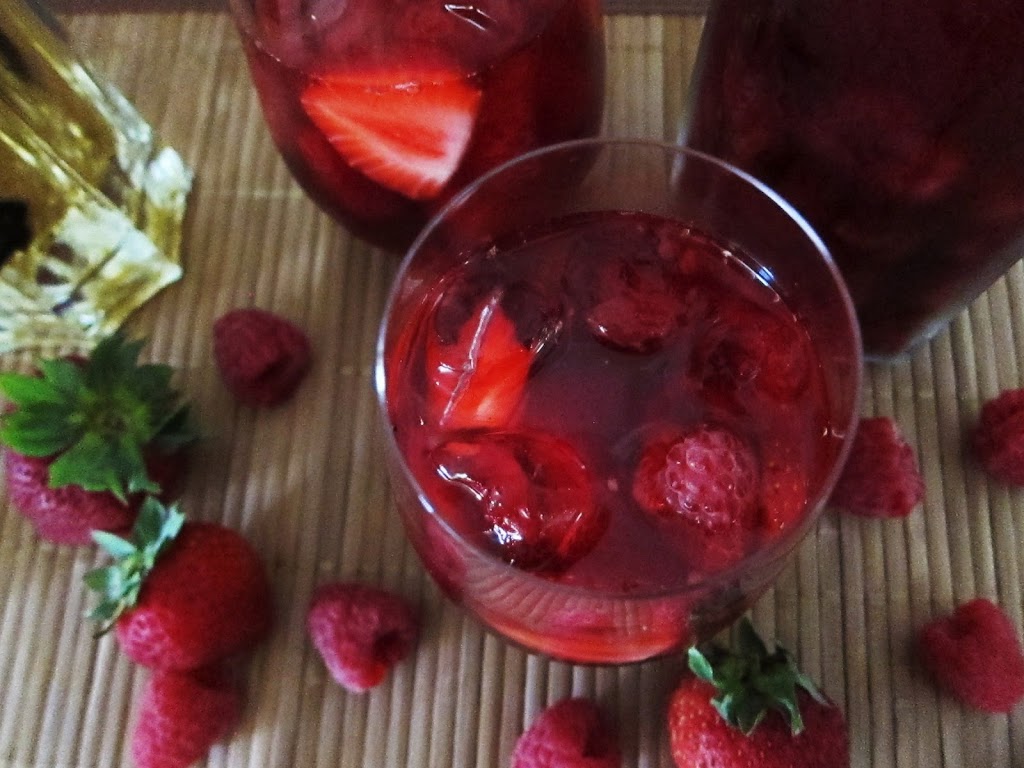 Berry Rosé Sangria
I have always enjoyed sangria, but I admit I have not made my own until this summer. I find that some sangrias are too sweet however, so I was excited to create my own not too sweet, filled with fruit, and pretty boozy version. I looked at many recipes as guidelines and was appalled at the amount of sugar that went into most. I wanted mine to taste of wine and sweet summer fruit but not sugar, so I didn't add any extra sweetener.
I know most people make either red or white sangria, but I decided to make mine pink. One of my favorite wines currently is Matchbook Tempranillo Rosé. It is not too sweet and not too dry, and is nice in the summer because it can be served chilled.
I decided to make this rosé sangria with all red berries for a lovely color. Sweet raspberries and strawberries paired up well with the wine and it was beautiful! But what is a sangria without a little boozier element...so I added a few liqueurs as well. St. Germain for a bit of sweetness and a floral note, and Mandarin Napoleon for a touch of citrus. Lastly I added a vanilla bean because I could not resist. I am convinced that vanilla makes everything better.
It was so refreshing and delicious! The perfect balance of sweet and dry. I shared some with my Mother who exclaimed..."This is the BEST sangria I have ever drank!" Which means a lot because she has sampled sangria at quite a few restaurants being that she loves to order it in place of a cocktail in the summer. Cheers to the weekend! I shall have to make more!
Berry Rosé Sangria
Makes one pitcher
1 bottle Rosé wine (I used Matchbook Tempranillo Rosé)
1/2 cup Mandarin Napoleon (or other orange liqueur)
3/4 cup St. Germain elderflower liqueur
1 vanilla bean, slit lengthwise
1/2 cup pureed fresh organic raspberries
1 cup fresh organic raspberries
1 cup fresh organic strawberries
Combine all ingredients in a large pitcher, and stir to combine. Place in the fridge and let sit overnight to develop flavor. Serve chilled!
(Visited 25 times, 1 visits today)