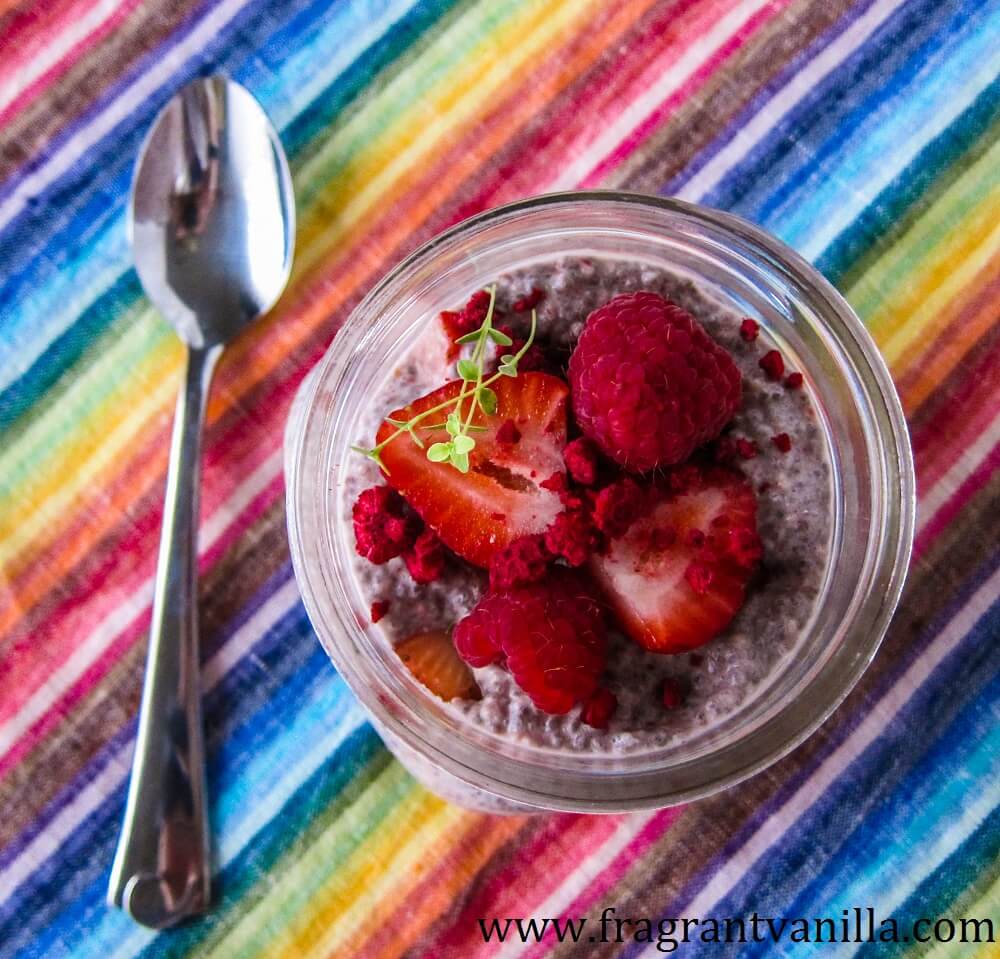 Berries and Cream Chia Pudding
Before I went vegan, I was obsessed with stove-top rice pudding.  I would make it with arborio rice, which is usually used for risotto, so it would get super creamy and delicious.  I had two favorites, one that was made with butter, coconut milk and had dates stirred into it at the last minute and topped off with toasted coconut, and one that had white chocolate, cream and strawberries.  They were both amazing!  I haven't made rice pudding in years because I haven't been that much into rice, but I have found that I like chia pudding just as much.  It becomes creamy fast without having to cook it or stand at the stove, and it packs much more of a nutritional punch with its heart healthy omega 3 oils.  I am a huge chia seed fan.  They make it into my overnight oats every day, and I love it when I can include them in my desserts as well.  I like to make quick berry chia jam a lot, and of course I love chia pudding.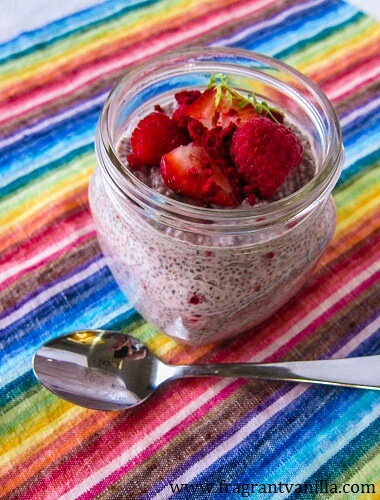 So a few days back, I was thinking something creamy and delicious like rice pudding sounded good...so chia pudding it was!  This one was kind of modeled after that creamy berry rice pudding I used to make.  Except way less sugar, no dairy and no cooking required!  I used a creamy coconut milk base laced with vanilla and it was plenty rich and delicious!  I blended berries into this mixture, and folded some in as well for maximum berry enjoyment. It tasted sooo good!  Once the chia seeds did their thing it was even better than I had imagined.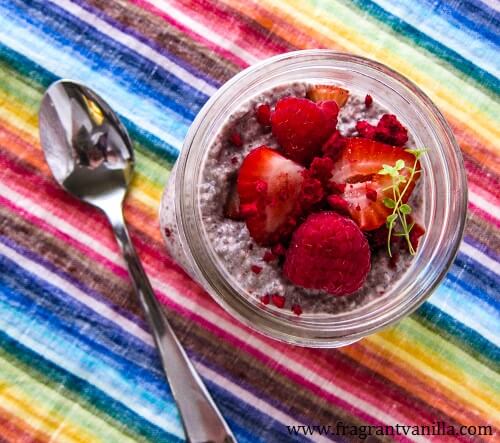 Sweet and delicious, it tasted almost like berry ice cream, but with the texture of rice pudding, jammy sweet berries throughout.  This was dessert, but honestly you could get away with eating some for breakfast.  When I ate complely raw, I would often have chia porridge for breakfast because the chia seeds keep you full and are satisfying.  If you are looking for a quick and easy comforting dessert and you have berries on hand, give this a go!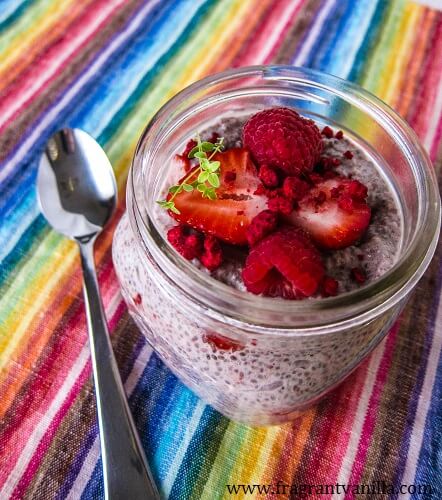 Berries and Cream Chia Pudding
Serves 3
Ingredients:
1 1/4 cups full fat organic coconut milk
1 1/2 cups organic strawberries (diced) and raspberries, divided
1/4 cup maple syrup
1/4 tsp sea salt
1 tsp pure vanilla extract
2/3 cup chia seeds
Instructions:
In a high speed blender, combine the coconut milk, 3/4 cup of the berries, maple syrup, and vanilla and blend until smooth.
Add to a bowl with the chia seeds and remaining berries and whisk until blended.
Let sit at least 30 minutes at least until the seeds have become creamy like rice pudding and soaked up a lot of the liquid.
Enjoy!
(Visited 65 times, 1 visits today)