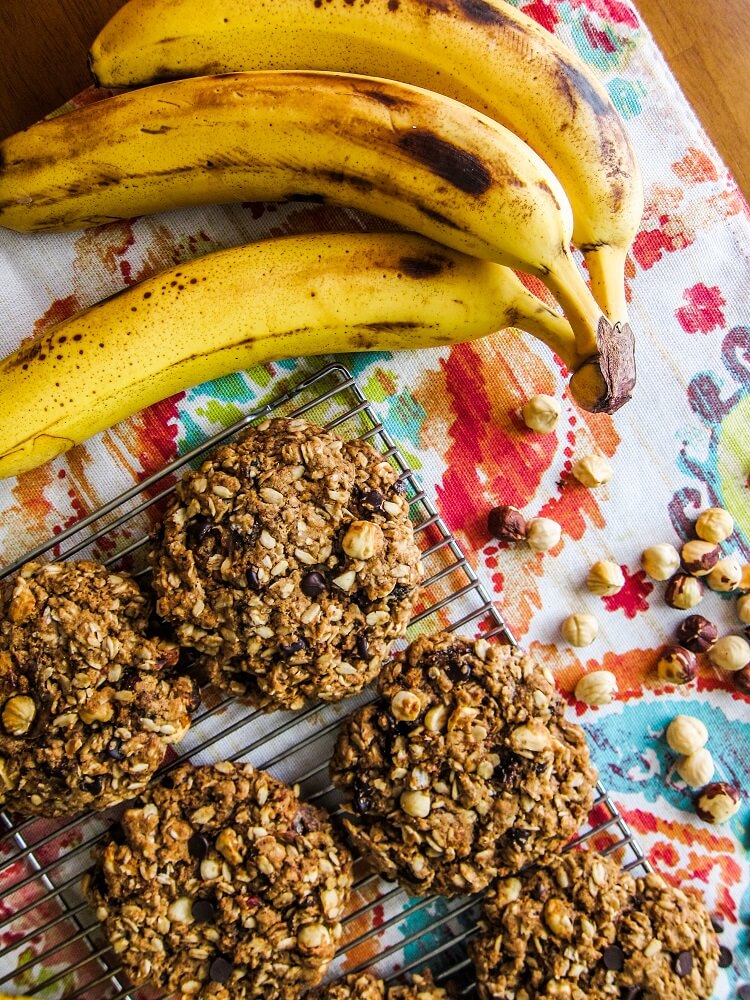 Banana Hazelnut Chocolate Chip Oatmeal Cookies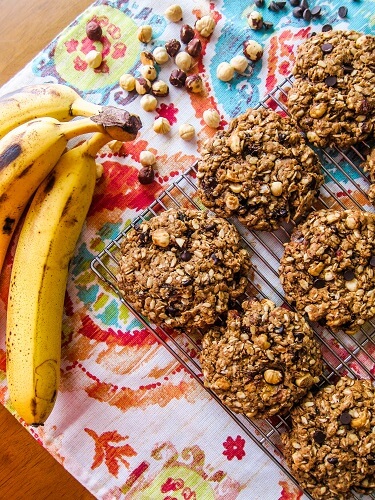 Over-ripe bananas are a good problem to have. I mean, you can cut them up and freeze them for smoothies or nice cream, or make some banana bread or cake, or mash them and make pancakes. I had gotten some over-ripe bananas from work, and I wanted to make something delicious with them besides all of the things I mentioned (because I like a bit of variety sometimes). I thought long and hard about what I wanted to make. It couldn't be too time consuming, it had to be something easy to make and something that used ingredients I already had on hand. Since I am always trying to use up things I already have instead of spending more money. What I decided on was cookies. They were perfect, because they were easy to make, and I knew they would be super delicious!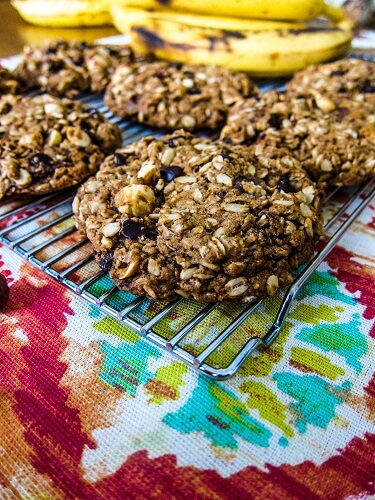 I didn't want the cookies super cakey though, or just mashed bananas mixed in, because I don't really like the texture of most banana cookies. So I decided to roast the bananas first to intensify their flavor and make them even sweeter then mix them into the dough keeping it in chunks. You could of course use dried banana chips and skip this step to make the recipe even faster, but trust me it is worth it for the flavor!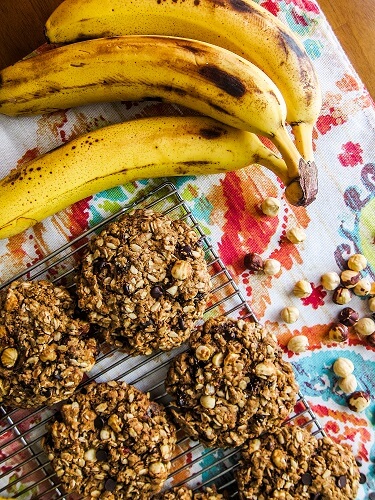 These were oatmeal cookies, my favorite cookie because they are hearty and I love oats plus the chewy on the inside crispy at the edges texture is perfect as far as I am concerned and exactly what I like in a cookie. I added in crunchy hazelnuts and rich vegan dark chocolate chips along with the bananas and the dough was heavenly! Honestly eating cookie dough is my favorite part of making cookies.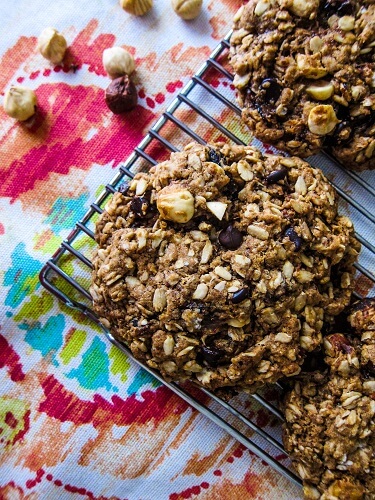 They baked up beautifully as well, and smelled amazing! Kind of like banana bread crossed with cookies containing brown sugar. But I didn't even use brown sugar in these, I used coconut sugar which is a great brown sugar substitute! The cookies were super delicious! If you are craving cookies and have bananas on hand, now you know what to make!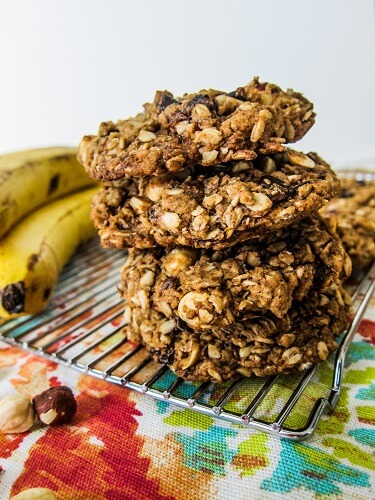 Banana Hazelnut Chocolate Chip Oatmeal Cookies
Makes 16 large cookies
4 medium organic bananas, peeled and sliced
3/4 cup virgin coconut oil, warmed to liquid
1 1/2 cups coconut sugar
2 flax eggs*
1 Tbsp pure vanilla extract
1 1/2 cups gluten free oat flour
2 tsp cinnamon
1 tsp baking soda
3/4 tsp sea salt
3 cups gluten free old fashioned rolled oats
1 cup vegan chocolate chips
3/4 cup chopped hazelnuts
Instructions:
preheat the oven to 375F degrees, and line a sheet pan with parchment (or oil it).
Spread out the sliced bananas on it, place in the oven, and roast for about 30-45 minutes until they are browned, and almost starting to caramelize and have lost some of their moisture. Remove from the oven and let cool until you are able to handle them comfortably. Set aside.
In a large mixing bowl, mix together the coconut oil, and sugar until well blended. Add flax eggs, vanilla, and beat until well combined (the mixture will become very thick).
Mix in the flour, soda, spices and sea salt until well blended. Mix in the oats until well combined, then add bananas, chocolate chips and hazelnuts and mix until evenly distributed throughout the dough.
Lower the oven to 350F degrees with the rack set at the middle position.
Roll the dough into 16 large balls, and spread them out on the 2 cookie sheets with plenty of room in between. Bake for 15-18 minutes or until golden, but not over baked. Let cool on sheet a few minutes, then remove to a wire rack lined with parchment to cool.
Enjoy!
*For the flax eggs, whisk together 2 Tbsp ground flax seed, 1/4 cup and 2 Tbsp water in a small bowl. Allow to sit in the fridge for 15 minutes until the mixture has set up (or become kind of thick).
(Visited 374 times, 1 visits today)