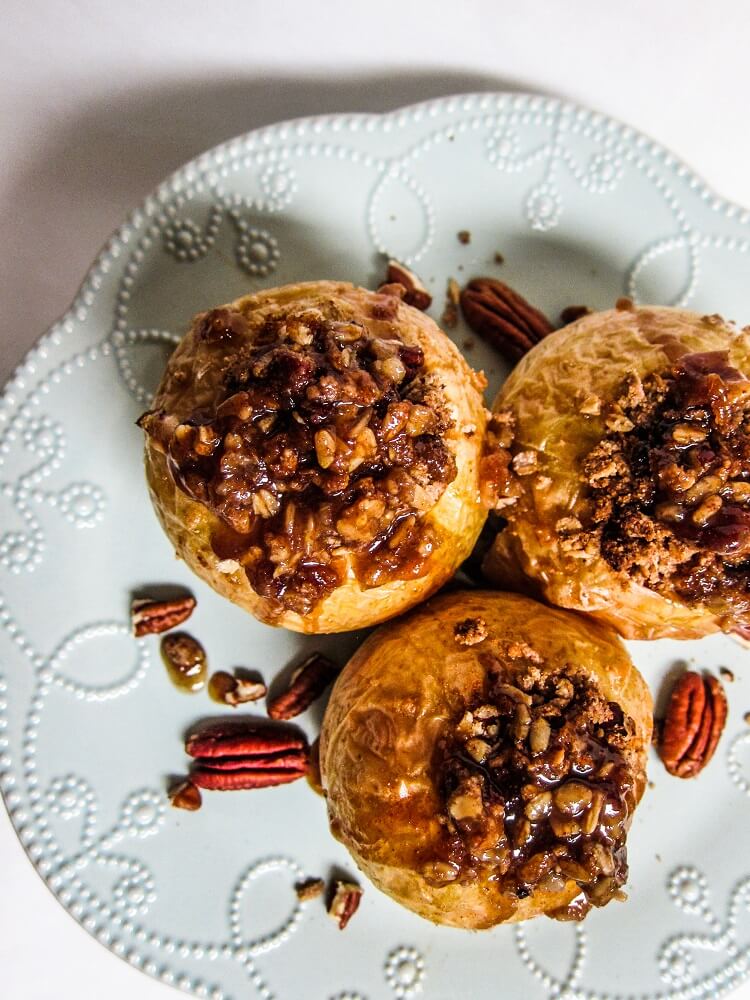 Baked Stuffed Apples with Cinnamon Ice Cream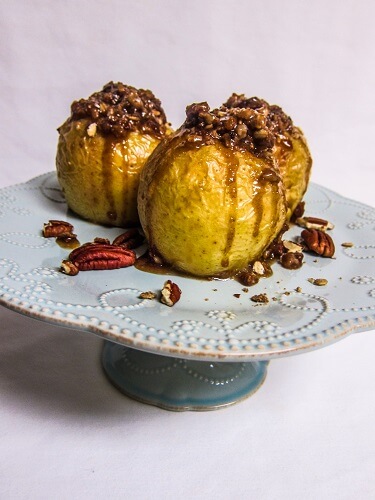 Apple pie may be the most popular apple dessert, but you know what else is delicious? Baked apples.  Not only that, they are a little bit lighter option with all of the same delicious apple flavor.  There was a time back in my early 20s that I made baked apples and pears all the time all Fall and Winter long because I enjoyed them so much.  Not only that, I appreciated that it was a healthier but still satisfying dessert.  Sometimes I would stuff them with things, and sometimes I would just bake them and then fill them with ice cream or chevre. All three of the variations were delicious.  I was watching a movie last weekend and they were talking about making baked apples and I started craving some.  Then I realized I haven't actually made any for at least 6 years and remembered how good they used to be.  I decided that I needed to get on making some.  They are really easy and not hard to make after all.  So much easier than pie.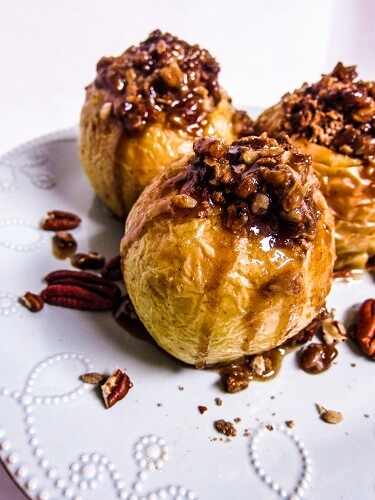 So I picked up some giant organic honeycrisp apples at work that were on sale.  I was super excited since I haven't had these in a while.  I used to just stuff them with walnuts and maple syrup, maybe some crasins, but I wanted a less heavy filling so I decided to make a oat streusel to stuff them with.  I nave never actually stuffed apples with streusel before, I usually just put it on top of pie, but I thought it would be delicious as a stuffing as well.  I can never resist streusel.  I did add a few pecans to it as well for a little more crunch. If you wanted to make a gluten free version of this, you could just swap out the oats for quinoa flakes, and the whole wheat flour for gluten free all purpose flour.  I also drizzled a little maple onto the apples  and it became kind of a thick caramel sauce in the pan that I spooned over them once they were baked.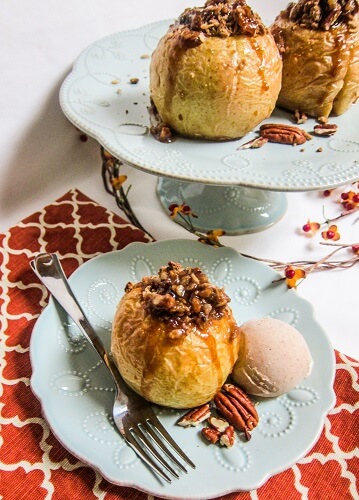 They smelled amazing!  They baked up to tender perfection and I couldn't wait to try them!  I made a cinnamon ice cream the day before to serve with them also because I love cool creamy ice cream with warm fruit desserts.  It was so good together!  The sweet crunchy streusel was perfect with the tender cinnamon scented apples and rich ice cream! If you have apples on hand, definitely give these a try!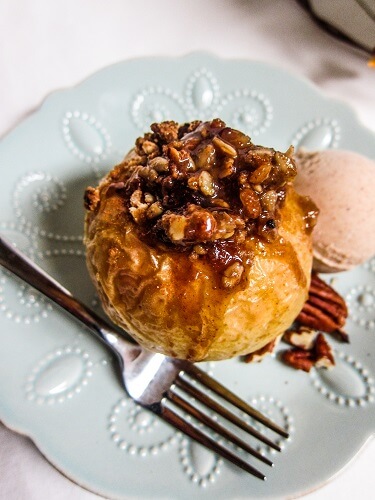 Baked Stuffed Apples with Cinnamon Ice Cream
Makes 3
Apples:
3 large organic honeycrisp or other sweet apples
1/4 cup maple syrup
1/2 tsp cinnamon
Filling:
3 Tbsp organic rolled rolled oats
3 Tbsp organic whole wheat pastry flour
1 Tbsp maple sugar
1 Tbsp chopped pecans
1 Tbsp pecan butter or almond butter
1/4 tsp sea salt
1/4 tsp cinnamon
Caramel:
3 Tbsp pecan butter
3 Tbsp maple syrup
Cinnamon Ice Cream for serving (recipe follows)
Instructions:
Preheat the oven to 400F degrees and oil a pie dish.
Core the apples (but not all the way to the bottom), and scoop out a couple Tbsp of flesh from the cavity so that you have a place to put your stuffing.  Place the apples in the pie dish.
Mix together the maple syrup and 1/2 tsp cinnamon and drizzle over the apples (it is ok if it goes to the bottom of the pan, it makes a nice caramel while they bake).
Mix together the filling in a bowl, scrunching it together with your hands until larger crumbs of filling are formed.
Spoon the filling into the apples, and press it in but leave the top a little mounded.
Tent with foil, and place in the oven.  Bake for about 30 minutes uncovered, then remove the foil and bake until the topping has lightly browned and the apples are tender.  Remove from the oven, and spoon the sauce at the bottom of the pan over the apples.   Let cool for at least 15 minutes.
Meanwhile, to make the caramel, whisk together the pecan butter and maple syrup until smooth.  Drizzle over each apple.
Serve warm with the cinnamon ice cream!
Vegan Cinnamon Ice Cream
Makes about 3 cups
Ingredients:
1 15 oz can organic full fat coconut milk
1/2 cup maple syrup (or to taste)
½ cup raw cashew butter
1/2 tsp sea salt
1/2 tsp cinnamon
2 tsp pure vanilla extract
Combine all ingredients in a high speed blender and blend until smooth.
Pour into an ice cream maker and process according to package directions.
Once the ice cream has finished churning, pour it into a freezer safe container with a lid.
Place the lid on, place in the freezer and freeze for about 4 hours or until firm enough to scoop. Enjoy!
*Note, if you do not have an ice cream maker you may also freeze it this way. Pour into a bowl, and place in the freezer. Whisk once every half hour until it has frozen to the consistency of soft serve. Then continue to pour into your freezer safe container as the above directions state.
*If your ice cream gets hard after freezing, let sit out about 15-20 minutes before scooping.
(Visited 378 times, 1 visits today)