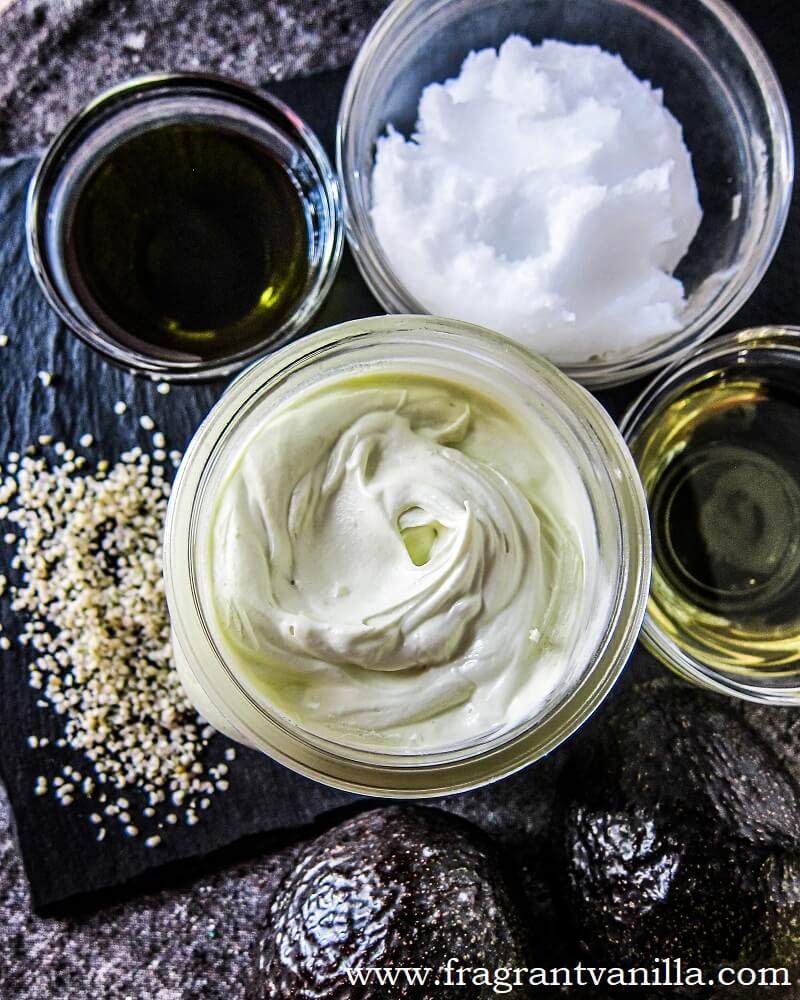 Avocado Hemp Butter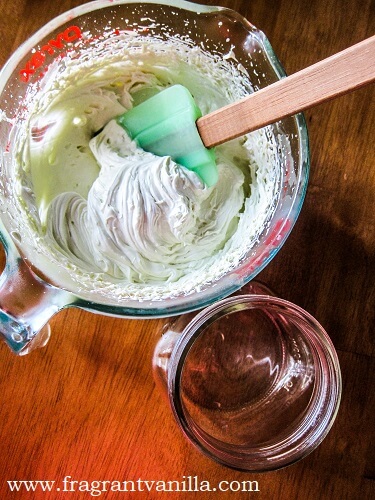 Have you ever gone to the store and wanted a vegan spreadable butter, and looked at the ones that were available, only to find out that they contained processed ingredients, or unhealthy oils?  Well, I have.  It has been the only thing that has stopped me from buying them.  About 10 years ago I actually tried some (because I cared less what was in my food then), but I didn't really care for it because it had a weird flavor.  Most of them are made with canola oil, soy bean oil or palm oil, all of which I try to avoid so I have just avoided the spreadable butters all together. But I recently said to myself, I bet I can make one at home with ingredients that I have on hand that would actually be better for me.  I told my Mom I would share it with her too and get her opinion on it, because she is a fan of spreadable butters, and she gave me the idea to try making one.  Now when I say butter of course it is not real butter like with dairy in it.  I am talking totally plant based!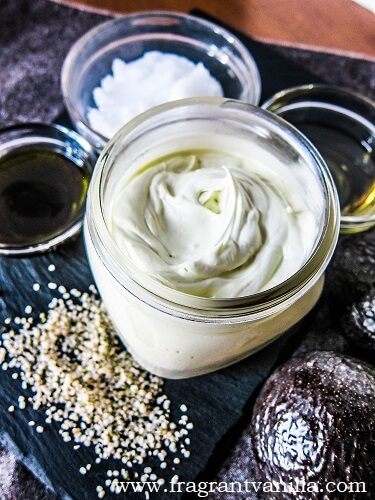 I wanted this butter to have some heart healthy oils in it, so I went for the avocado oil.  It already has a buttery but neutral flavor to it, which is why I love to use it on popcorn or for baking.  It blends in beautifully.  Next, I wanted to add some hemp seed oil.  I had a big bottle on hand, and I know it contains heart healthy omega 3 fatty acids, so why not add some of that too?  I try to have a little every day anyhow.  These two oils are both liquid even when refrigerated, which is important for making the butter spreadable.  I figured mix them with one fat that is solid when chilled and the butter would be the prefect consistency.  I chose coconut oil. I like the slightly sweet flavor of coconut oil, and I figured it would mimic the sweetness in some sweet cream butter. But of course if you are making this and want it more neutral, use a refined coconut oil instead of the unrefined I use in the recipe.  That is just what I happen to like.  I added a touch of sea salt and apple cider vinegar (to make it taste more like dairy), and it was perfect!  So how do you make this into buttery perfection?  well, the process is a little fun.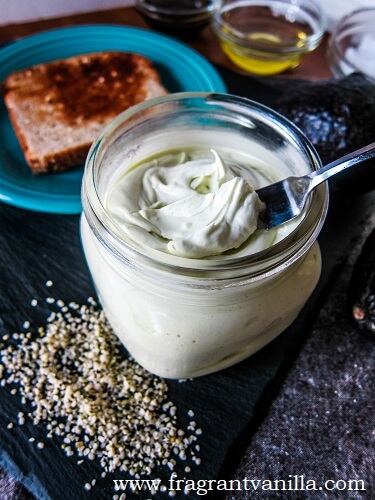 You don't just pop it in the refrigerator to chill, that would result in a less spreadable butter. It gets whipped up like frosting!  You just chill it until it starts to get a little cloudy, then whip it with a hand mixer. This is actually the process I use for making body butter, so I knew it would work beautifully for this.  It turned out so good!  It spreads onto toast perfectly like real butter, and it tastes good too, it has a slightly sweet nutty flavor I love!  I shared it with my Mom and she said it was better than the store bought vegan butter she had been buying.  So, if you are a butter person, skip the store bought vegan butter and give this a try!  It is easy to make and worth it!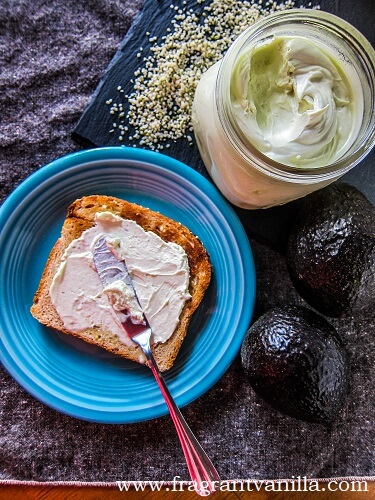 Avocado Hemp Butter
Makes about 2 cups
Ingredients:
1/2 cup raw unrefined coconut oil*
1/4 cup hemp seed oil*
1/4 cup avocado oil
1/4 tsp sea salt
1/4 tsp apple cider vinegar
Instructions:
In a medium glass bowl, whisk together all ingredients until combined.
Place in the freezer until the mixture starts to solidify at the edges, and becomes cloudy, about 20 minutes or so.
Remove from the freezer, and whip with an electric mixer on high speed until light, fluffy and the consistency of creamy frosting (you may have to scrape the bowl sides half way through).
Spoon into a jar, and let sit in the refrigerator until more firm, about an hour at least.
Keeps in the refrigerator for a few months.
*Note: if you want less of a coconut flavor, use refined coconut oil instead. I just prefer the unrefined.
(Visited 582 times, 1 visits today)