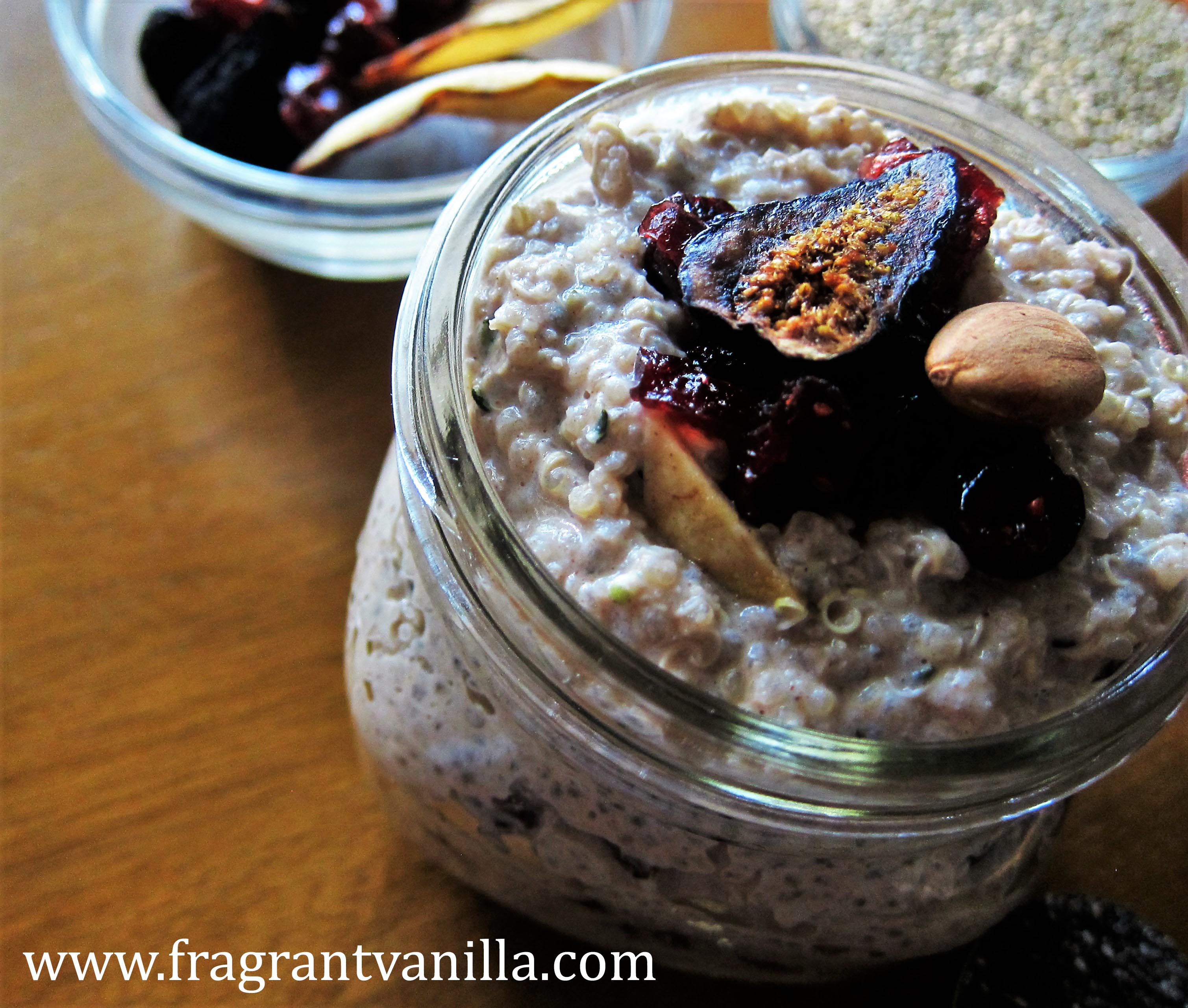 Autumn Quinoa Breakfast Porridge
We have this Summer berry quinoa salad in the deli I work in, and it is super popular.  It is a sweet salad with creamy coconut milk, and fresh berries, and I always have said to myself, it would make a good breakfast.  And told myself that I would make it at home.  Well, Summer has come and gone, and berries aren't in season anymore and I still have not made it. But I still wanted to try quinoa for breakfast.  After all, it is high in protein and fiber and is a blank palate for creating deliciousness.  I am usually an oatmeal eater, but this sounded good.  So, I created a Fall version of the berry quinoa and added things to it in order for it to be a suitable breakfast instead of just a salad.  I have never been a cold cereal girl, it is almost always something warm, so I was looking forward to this.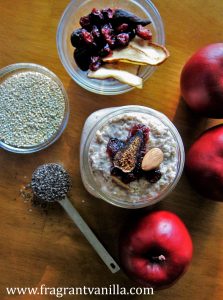 I used the quinoa as the base of course, but once it was done cooking, I added a quick almond milk to make it creamy.  How do you make a quick almond milk?  Simple, whisk almond butter into filtered water.  Works every time.  I do this often because I really don't go through enough almond milk to make a big batch.  I sweetened it with a little stevia (I do not usually prefer too sweet of things in my breakfast) and cinnamon.  I had to add in some more healthy protein boosters, so I added chia seeds and hemp seeds which are a regular addition to my usual oatmeal for healthy omega 3 oils.  Instead of the berries in the other recipe, I used dried pears, cranberries and figs.  They plumped up nicely as they sat in the warm quinoa porridge for a little while.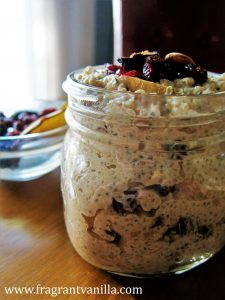 It was delicious!  Warming, comforting, filling, sweet and delicious.  This is the type of breakfast that keeps you satisfied, no getting hungry within a few hours.  Which is important to me, because I eat lunch a little later than most.  I enjoyed it warm, but I shared some with Eric and gave it to him in a jar because he needs quick breakfasts before going to work early.  So, it can be served either way.  Give quinoa a chance for breakfast, you will be happy you did!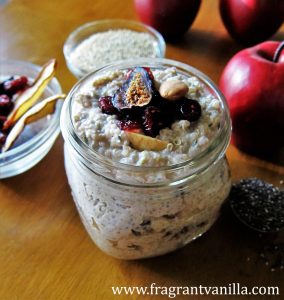 Autumn Quinoa Breakfast Porridge
serves 2
Ingredients:
1/2 cup uncooked quinoa
1 cup plus 3/4 cup filtered water (divided)
3 Tbsp almond butter
1/8 tsp sea salt
1/4 tsp cinnamon
1/4 tsp Sweetleaf stevia sweet drops (or your choice sweetener to taste, maple syrup works too)
1 Tbsp chia seeds
1 Tbsp hemp seeds
1/4 cup dried cranberries
1/4 cup dried figs, cut into pieces
1/4 cup dried apples, cut into small pieces
Directions:
To prepare the quinoa, place quinoa and 1 cup of the water in a medium saucepan and bring to a boil. Reduce to a simmer, cover and cook until all the water is absorbed about 15 minutes, or when all the grains have turned from white to transparent, and the spiral-like germ has separated. Drain any liquid and place back into the pot.
Whisk together the 3/4 cup filtered water, almond butter, sea salt, cinnamon, and stevia (or whatever sweetener you are using), then pour over the quinoa in the pot and mix well.
Add the chia seeds, hemp seeds and dried fruit and stir to combine. Serve warm, or place in the refrigerator in jars and serve the next day for breakfast.
(Visited 93 times, 1 visits today)