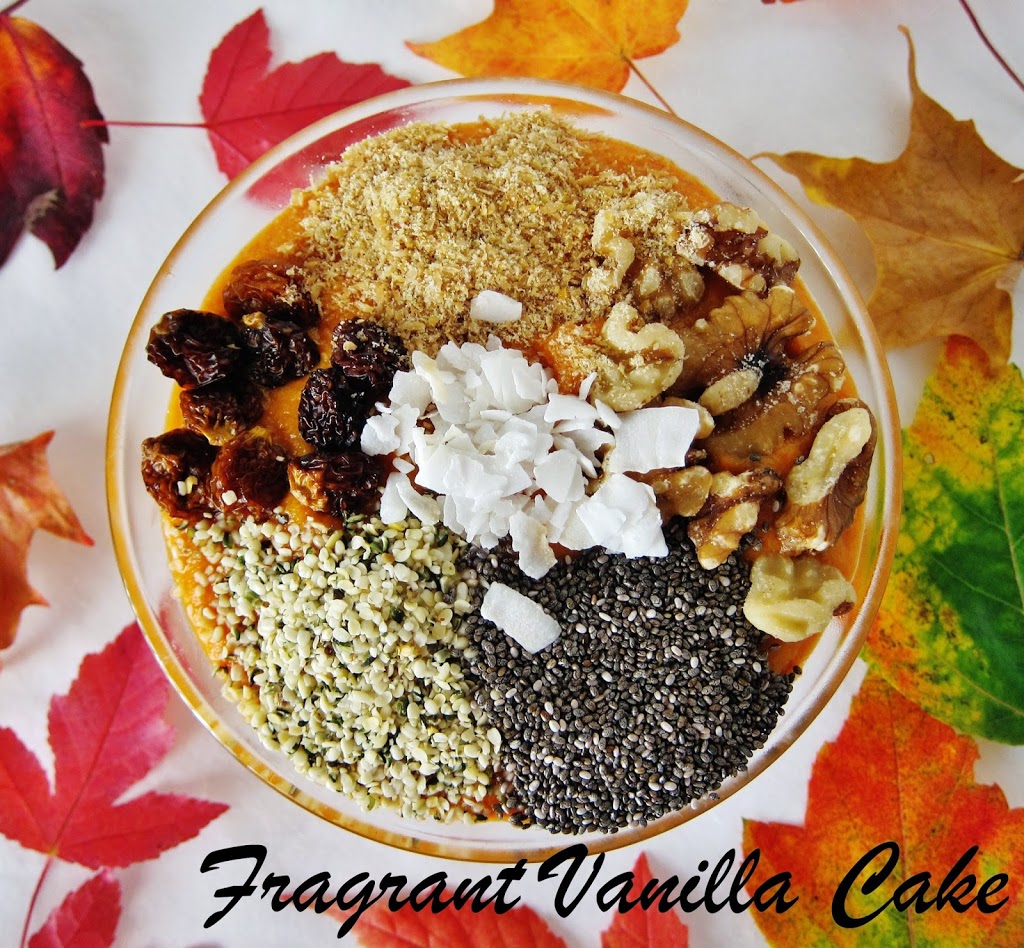 Autumn Bliss Smoothie Bowl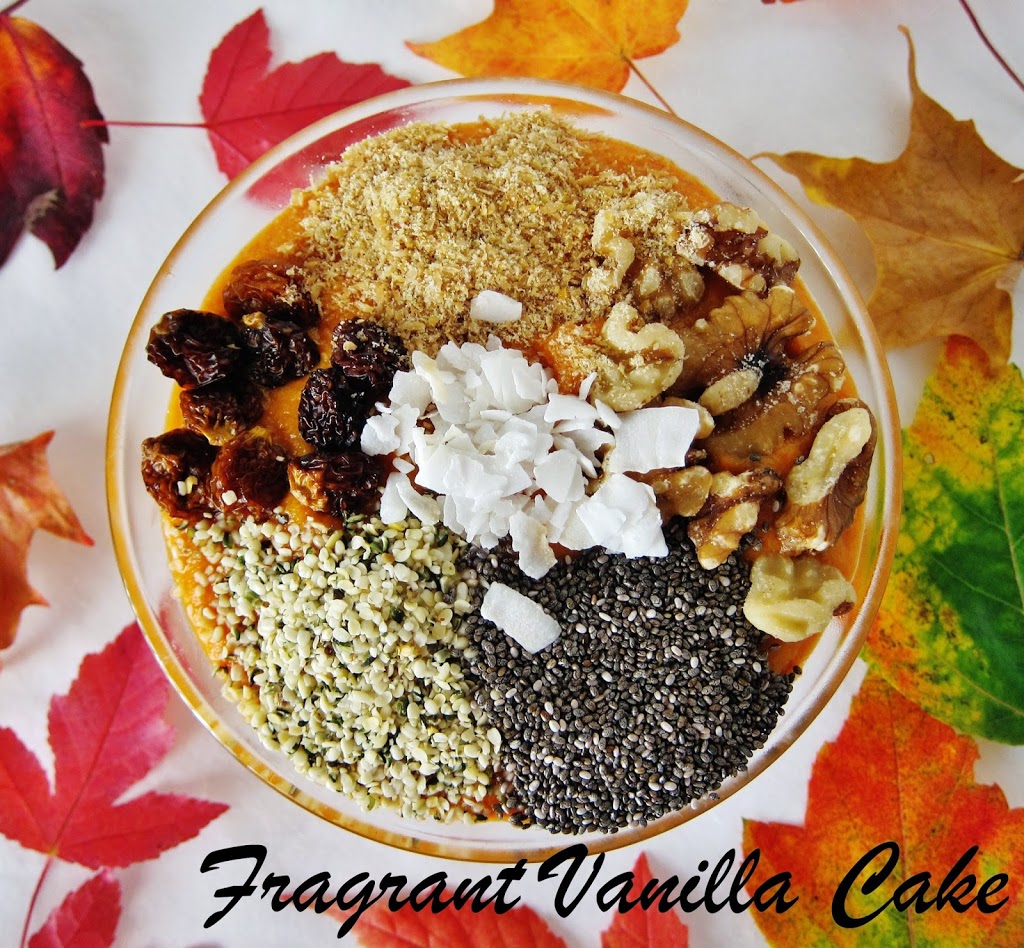 "The leaves are sure noisy!" my boyfriend Eric said as we were out walking after work one day last week. "Yes they are! And I love it! Especially when I am running!" I replied. Nothing brings more joy to me than crunching leaves with my feet. Maybe I am a bit of a little kid in that respect, but I love that sound. It means Autumn, and cool crisp air, beautiful trees and warm sweater season is officially here. Not to mention that the sound itself is wonderful. This is one of my favorite times of the year. Some of the most delicious things are available now, which makes me happy as well. I have been making a lot of squash and apple smoothies lately. They taste like pumpkin pie and apple pie had a baby together in smoothie form.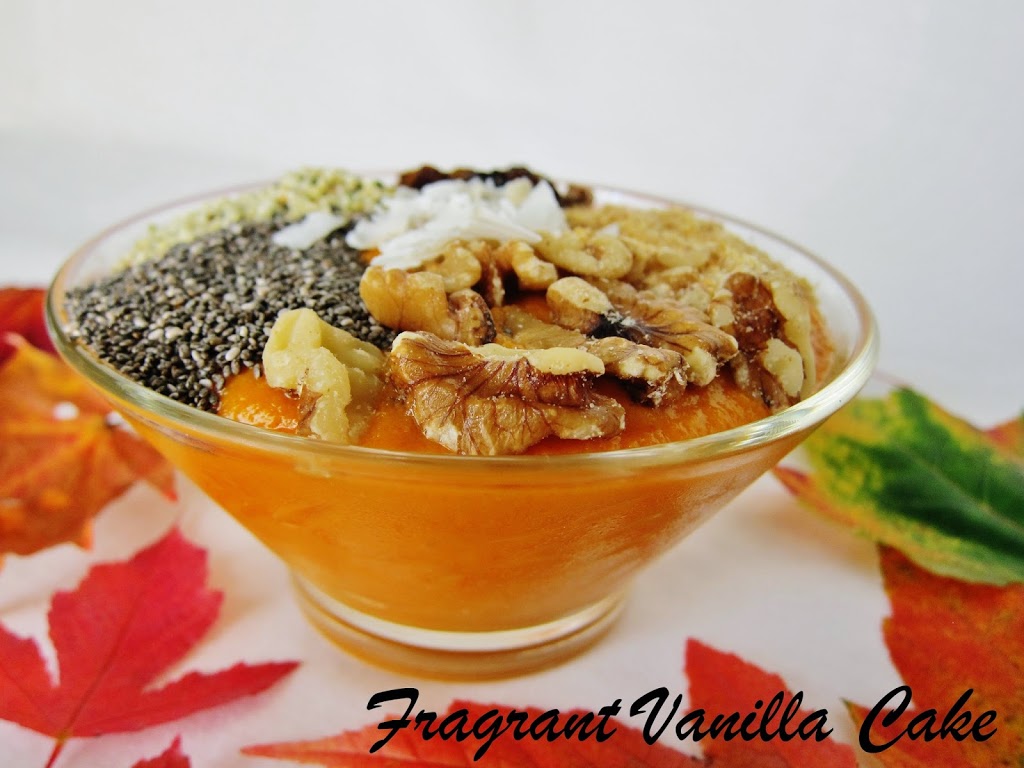 How amazing does that sound? Well, I love it because those are two of my favorite desserts this time of the year. Nothing beats dessert in the form of a nutritious meal or post workout snack as far as I am concerned. I make a smoothie bowl with it to make it even more delicious! I love the contrast of the crunchy toppings with the smoothie beneath. It is sooo good! Do yourself a favor and whip up one of these! You will be happy you did, and if you don't feel like dealing with squash, use carrot or sweet potato! You will not be able to tell the difference. Also, feel free to switch up the toppings to your liking!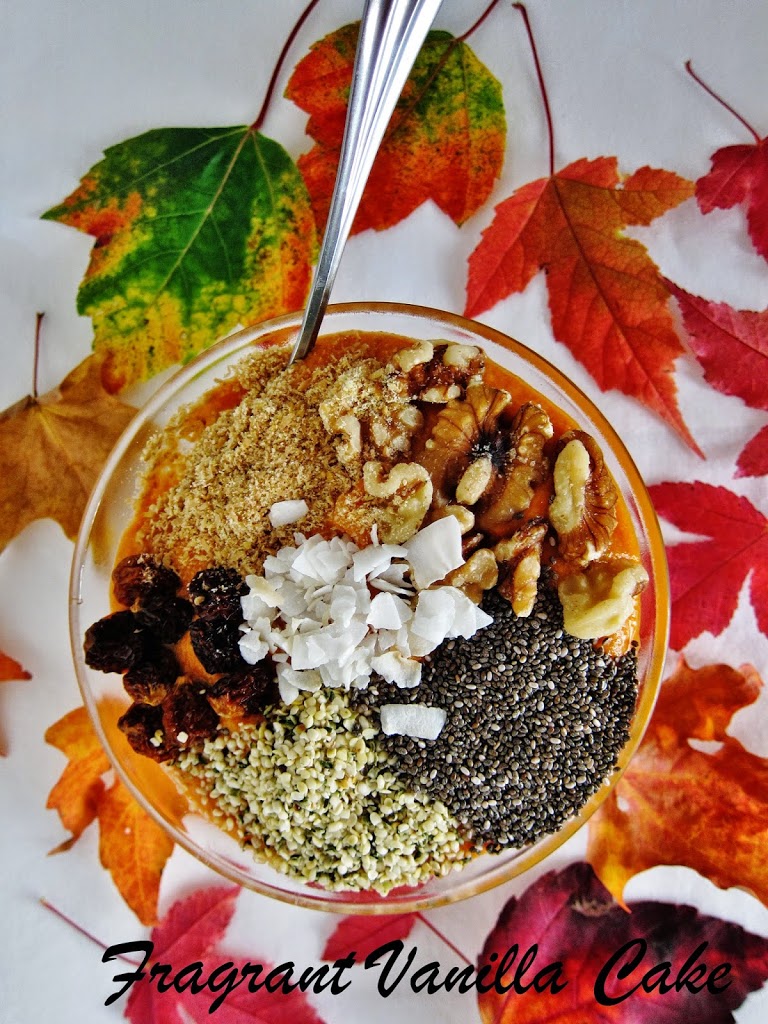 Autumn Bliss Smoothie Bowl
Serves 1
Smoothie:
1 cup chopped winter squash, carrot or sweet potato
1 large apple, chopped
1 1/2 cups frozen bananas, cut into pieces
1 tsp pure vanilla extract
1 tsp cinnamon
1/2 tsp cardamom
1 small chunk fresh ginger
1 scoop raw vanilla protein powder (optional, I used Sunwarrior Blend)
1/4-1/2 cup raw hemp milk or coconut milk (depending on how liquidy you like it, I like mine thick so I add less)
stevia to taste (optional, or your choice liquid raw sweetener)
Toppings (feel free to be creative and add your own):
ground flax seed
chia seeds
shelled raw hemp seeds
large flake coconut
raw walnut pieces
golden berries, or golden raisins
For the smoothie, combine all ingredients in a blender and blend until smooth, using the tamper to press the mixture into the blades. Pour into a bowl, top with toppings (I used about 1 Tbsp of each). Enjoy!
(Visited 77 times, 1 visits today)