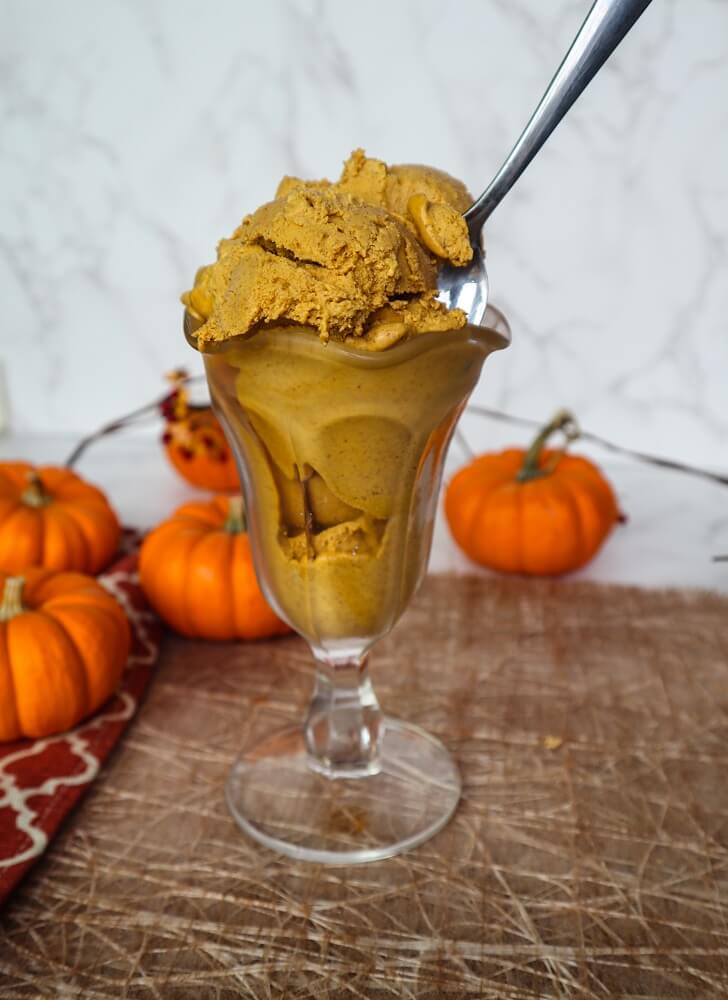 6 Ingredient Vegan Pumpkin Spice Ice Cream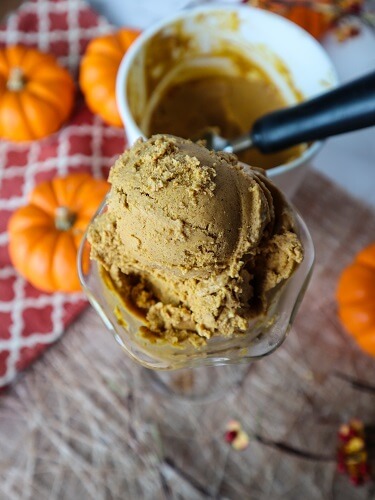 I am a little obsessed with pumpkins and all things fall right now.  I already have a bunch of pumpkin decor, mainly glass and ceramic ones, but I just bought another one, and then I also bought some cute mini pumpkins because I have been walking past them on display at work and they were calling to me!  I am also loving all things pumpkin flavored! I have been making pumpkin spice lattes at home, and I just decided to make a delicious 6 Ingredient Pumpkin Spice Ice Cream last week!  It is still warm here, we are not yet into the chilly fall weather, so it is the perfect time for some fall flavored ice cream to be made!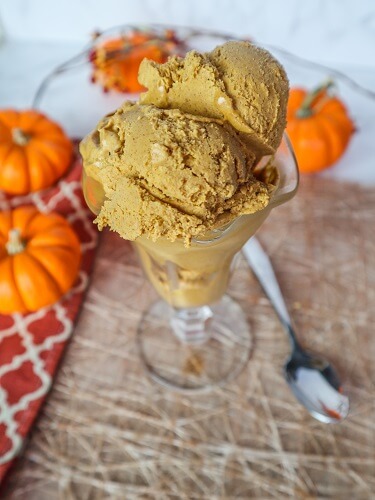 This one is super simple to make!  It only has 6 ingredients, and if you used part of a can of pumpkin for something (which is what I did, when I made a pumpkin spice latte mix) you could use the rest for this!  I used a coconut milk base, because I find that it makes the creamiest ice cream and I always have some on hand in my pantry.  I also added some smooth almond butter to this, because I wanted it to be rich and creamy like the ice cream you get in shops!  If I am going to indulge, I like to indulge and have really good ice cream.  Which is why I hardly ever buy store bought, I can make good ice cream at home!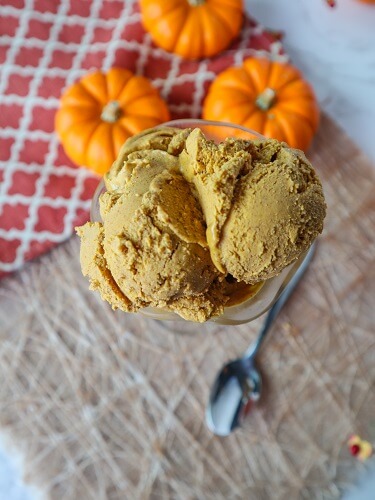 To sweeten this ice cream, I used medjool dates.  Because I like to eat fruit sweetened stuff much of the time, and dates are about as natural as sweeteners come.  Plus they don't add a bunch of excess moisture to the ice cream (moisture makes it more icy), and they have a lovely caramel brown sugar flavor that goes so well with pumpkin!  If you do not have a high speed blender, and you end up with little flecks of dates and you want a super smooth ice cream you can always strain the mixture.  But I find that my vitamix blends them up so you don't even know they are there!  Lastly I flavored the ice cream with pumpkin spice mix (it contains ginger, cinnamon, nutmeg and cloves), and a touch of vanilla!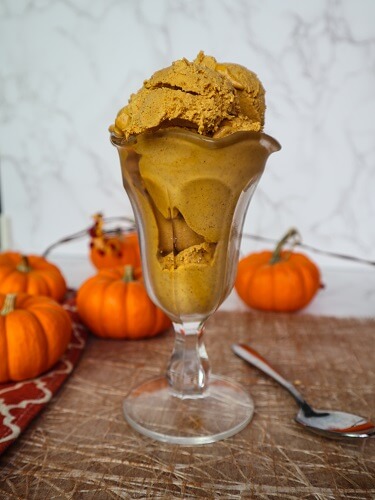 This ice cream turned out so delicious!  It tastes like pumpkin pie, but more rich and creamy like a pumpkin frozen mousse!  It has just the right amount of spice and sweetness in my opinion.  If you are a pumpkin spice lover and obsessed with all things pumpkin like me right now, definitely give this 6 Ingredient Pumpkin Spice Ice Cream a try!  It is really good with apple crisp too!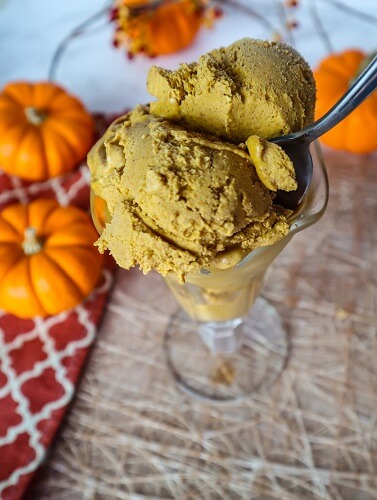 6 Ingredient Vegan Pumpkin Spice Ice Cream
Makes about 3 ½ cups
Ingredients:
Ice Cream Base:
1 15 oz can organic full fat coconut milk
1 cup organic pumpkin puree
1/2 cup almond butter
3/4 cup pitted medjool dates (if they are not soft, soak them in filtered water 30 minutes and drain well before using)
1 1/2 tsp pumpkin spice mix
1 tsp pure vanilla extract
Directions:
To make the ice cream base, blend all ingredients in a high speed blender until smooth.  Pour into an ice cream machine, and process according to package directions.  Or, if you do not have an ice cream maker, pour into a bowl, place in the freezer and stir every 30 minutes until the consistency of soft serve.
Once the ice cream has finished churning, pour it into a freezer container with a lid, cover and place the ice cream in the freezer and allow it to freeze until firm enough to scoop, which takes at least 2 hours.
(Visited 695 times, 1 visits today)