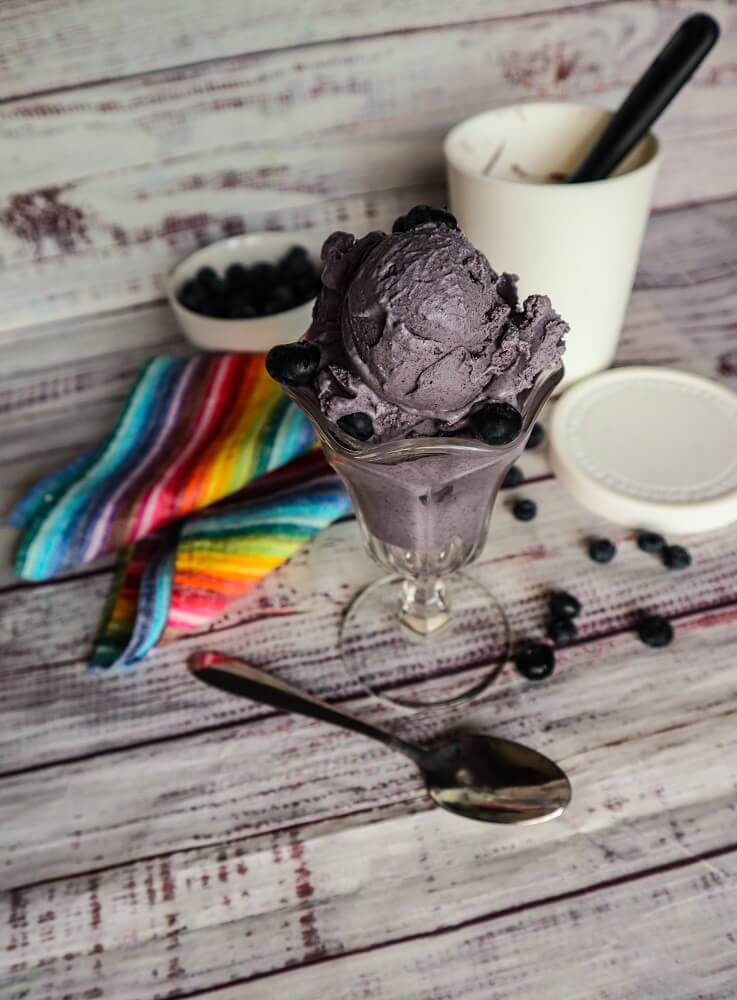 5 Ingredient Vegan Blueberry Cheesecake Ice Cream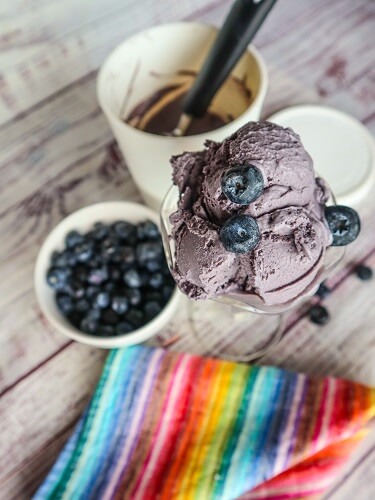 I love enjoying any type of berries in the summer!  Local are best, and picking them yourself is even better!  I went berry picking several times with Eric on our trip to Michigan a few years back, and they were honestly the best berries I have ever tasted. That was at a farm, but here in Minnesota we usually just pick wild black raspberries and mulberries.  We don't quite have ripe berries here yet (almost), but thank goodness I can get them at the store, and I have some frozen from last year.  Last weekend I decided to make some 5 Ingredient Vegan Blueberry Cheesecake Ice Cream, because it has been so warm here lately I needed something cooling.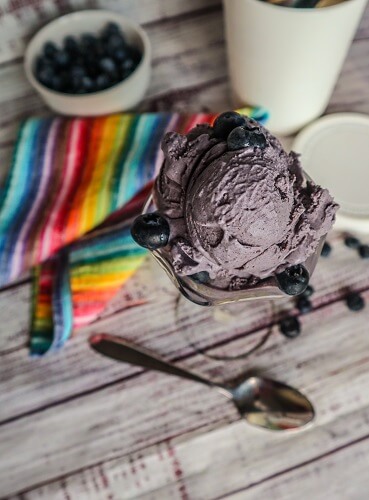 I love making ice cream at home because you can create whatever flavors you want, any time you want.  You can dream up a flavor and just make that!  I really haven't made anything I did not like, some flavors are definitely better than others though!  Some of the more weird ones I have made are roasted tomato vanilla, arnold palmer iced tea lemonade flavor, avocado, and habanero pineapple.  I think my favorites are the ones with berries and the ones involving caramel and gooey filling.  If I want a more simple one though a berry base like this vegan blueberry cheesecake is perfect!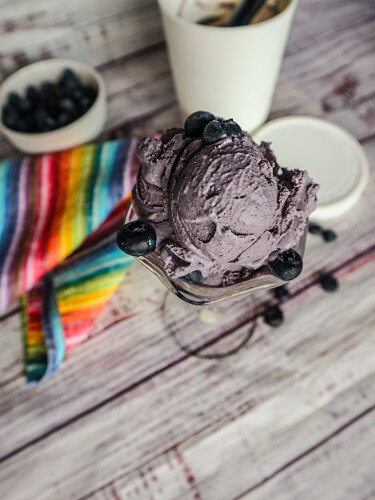 For the base, I used full fat coconut milk and raw cashew butter to make it nice and creamy like a gelato.  This is kind of my go to starting off most of my ice cream bases using a coconut milk mixed with a little nut butter of some sort because it produces the most rich and creamy ice cream. I used cashew this time because it has a more cheesecake like flavor in things. Is it low fat? No, but I like to indulge once in a while when I do have dessert.  This does happen to be fruit sweetened though, because I used dates to sweeten it since they do not add excess moisture unlike some sweeteners (I wanted to avoid more moisture since the berries have a high moisture content).  Lastly I added a dash of vanilla to this, and the base was perfect!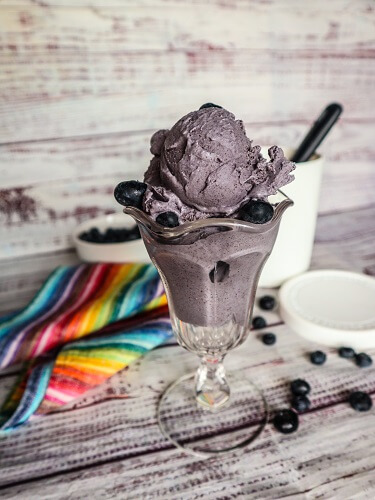 I could not wait to try it but it needed to churn first which luckily does not take too long with my ice cream maker.  If you do not have an ice cream maker you can still make this, it will just take a little longer (I included that in the directions). This ice cream turned out sooo yummy!  Soft and the perfect balance of sweet blueberry flavor and vanilla cheesecake flavor!  If you are in the mood for some delicious ice cream, definitely give this 5 Ingredient Blueberry Cheesecake Ice Cream a try!
See the video on Instagram!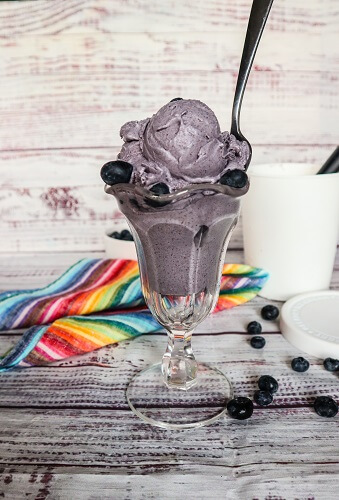 5 Ingredient Vegan Blueberry Cheesecake Ice Cream
Makes 3 cups
Ingredients:
1 15 oz can full fat coconut milk
1/2 cup raw cashew butter
1 1/2 cups fresh organic blueberries
3/4 cup soft, pitted medjool dates (if they are not soft, soak them in filtered water for 30 minutes before using)
1 tsp pure vanilla extract
Instructions:
Combine all ingredients in a blender and blend until smooth.
Pour into an ice cream maker and process according to directions.  Alternatively, if you do not have an ice cream maker, pour it into a bowl, and whisk every half hour until it is to the consistency of a thick malt.
Pour into a freezer safe container with a lid, and continue to freeze until firm enough to scoop (at least 4 hours or overnight). If it becomes too firm, simply let it sit out for 15 minutes before serving.
(Visited 965 times, 1 visits today)