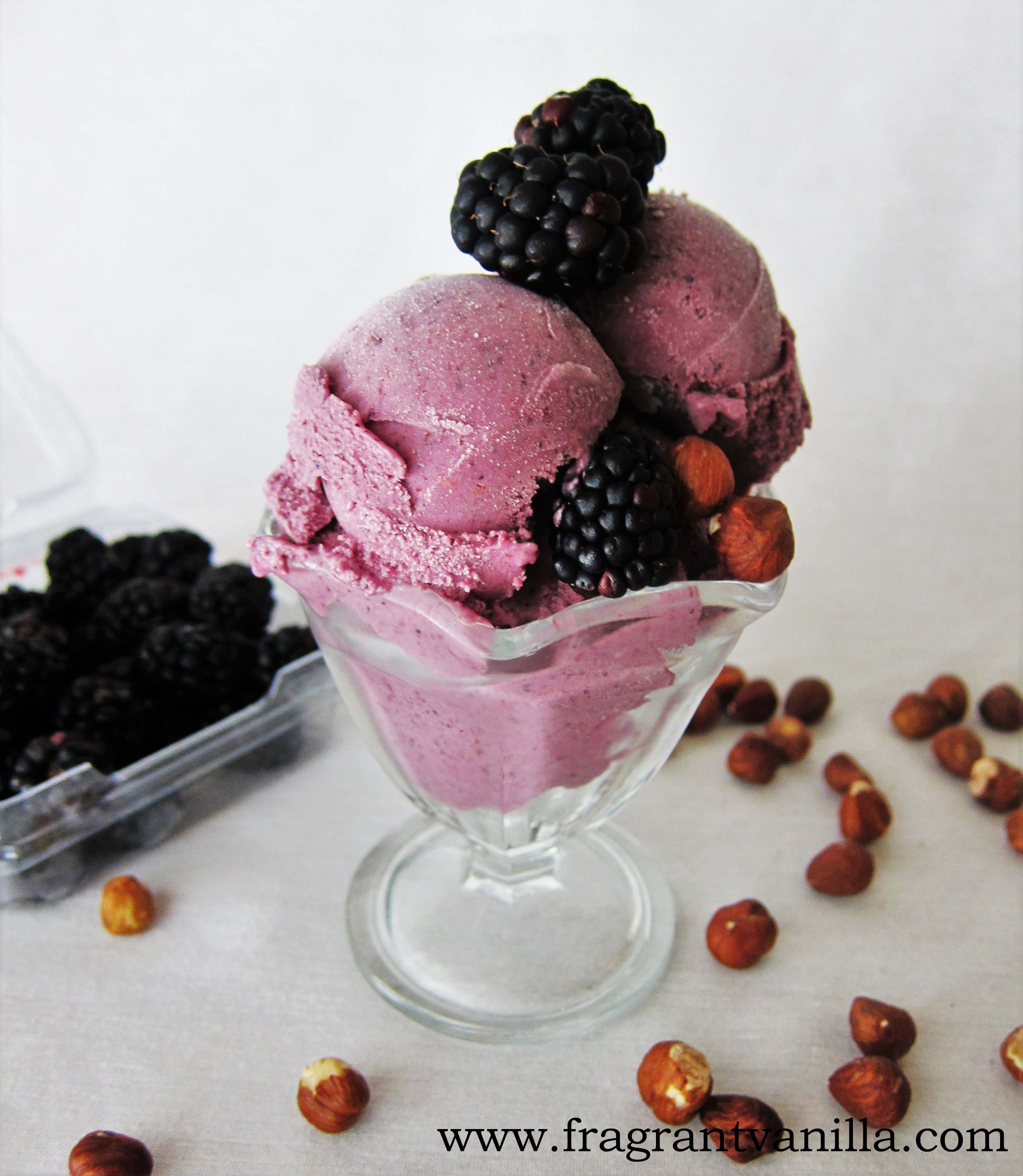 5 Ingredient Vegan Blackberry Hazelnut Ice Cream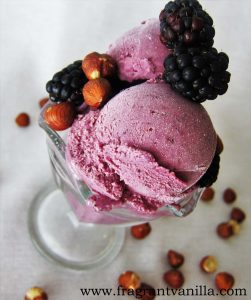 When I bought an ice cream maker about 10 years back, I had no idea how much I would use it.  But I ended up using it almost every week for a few years.  I originally bought it because I wanted to create healthier ice cream than the store bought that wasn't full of weird additives.  At the time, I wanted everything to be low fat, sugar free (back in the days when I considered that healthy, and did not read ingredients on things necessarily to find out what was being subbed for those things). I of course didn't have a blog yet either and wasn't vegan and I experimented with making things like low fat frozen yogurt (which did not have a very good texture).  The ice creams tasted ok, but there was one ingredient that I discovered which really changed home made ice cream making for me and allowed me to create some bomb ice creams. Coconut milk.  I started out with low fat, but then got hooked on full fat organic for the silkiest creamiest ice creams.  It is a blank palate ready for whatever flavors you wish to make.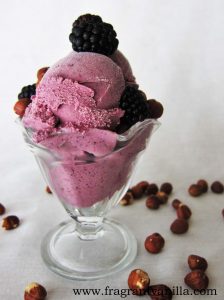 I now pretty much have the ice cream thing down. It is equally good made with young coconut meat and cashews mixed together for a good mouthfeel.  But when you are in a hurry, coconut milk is hands down the winner as far as I am concerned.  I now know that my body needs healthy fats in order to function, and I am not fat phobic, so I no longer make low fat ice cream because I would rather have a smaller serving of something that tastes amazing than a large serving of something mediocre.  Unless of course it is banana nice cream, which is soft serve and that is a different story (love that stuff).  So if you want low fat, make banana soft serve. If you want more traditional tasting ice cream, read on.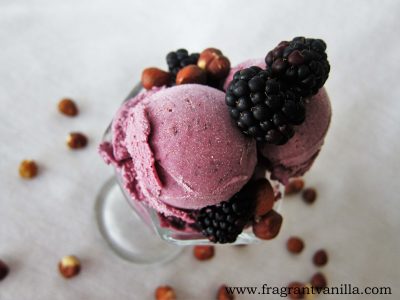 I made this wonderful blackberry hazelnut ice cream last week to go with a pie I had made and it was sooo good!  I had to share the recipe with you all because it is only 5 ingredients and super simple to make.  The texture kind of reminds me of gelato, and the flavor is like no other.  Sweet and nutty.  Like Fancy PB and J thanks to the hazelnut butter and blackberries. If you get some fresh organic blackberries, you must try this ice cream.  I have included instructions both for with an ice cream maker and without, so no excuses not to try it!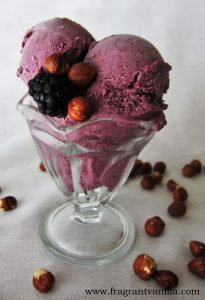 5 Ingredient Vegan Blackberry Hazelnut Ice Cream
Makes 3 cups
1 15 oz can full fat organic coconut milk
1/2 cup raw hazelnut butter
1 1/2 cups fresh organic blackberries
1/4 cup soft, pitted medjool dates (if they are not soft, soak them in filtered water for 30 minutes before using)
1/4 tsp sea salt
Combine all ingredients in a blender and blend until smooth. Pour into an ice cream maker and process according to directions. Alternatively, if you do not have an ice cream maker, pour it into a bowl, and whisk every half hour until it is to the consistency of a thick malt. Pour into a freezer safe container with a lid, and continue to freeze until firm enough to scoop (at least 4 hours or overnight). If it becomes too firm, simply let it sit out for 15 minutes before serving.
(Visited 98 times, 1 visits today)