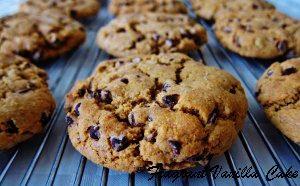 2 Delicious Gluten Free Chocolate Chip Cookie Recipes!
One of my favorite memories from being a little girl was spending time with my Grandma in her kitchen. She made lots of things, but one of my favorites was her chocolate chip cookies.  They must have been a weekly thing, because it seemed like she made them quite a lot. I would stand behind her as she mixed the dough, just waiting to steal some.  Because my favorite thing was the dough.  I mean, who doesn't love cookie dough?  She always warned me that I could get sick from eating too much, or because it had raw eggs...but I never did.  After the dough, the warm and gooey cookies a few minutes out of the oven were my favorite. Grandma was the greatest cookie maker I know, and I think I get my love of baking from her.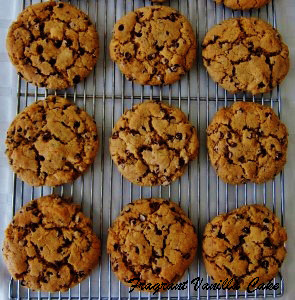 On a rainy day last weekend, I decided that it was going to be chocolate chip cookie baking time.  I had gone for my run, and it was pretty humid outdoors, but luckily it didn't start raining until after I got in.  I was pretty beat from the humidity, but not too tired to bake cookies!  Rainy days are the best days to spend the day in the kitchen and bake!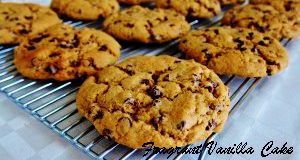 Chocolate chip cookies are the classic American cookie as far as I am concerned and I love them as I mentioned earlier, so that is what I decided to make.  2 different kinds!  The first is an old recipe of mine that I revamped to suit my current way of eating.  It is a recipe for Banana Chocolate Chip Cookies.  They taste like banana bread in cookie form!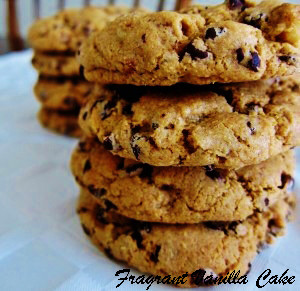 For these I used some mini vegan chocolate chips I had been given recently and had been waiting to use in a recipe.  I changed the sweetener and the fats from my old recipe and they turned out wonderful!  Soft on the outside, crunchy on the inside just how I like them. The recipe is at the end of the post!
The second chocolate chip cookie I made was one I had recently seen Brandi over at
The Vegan 8
post,
Oat Free Vegan Classic Chocolate Chip Cookies
. I had some rice flour on hand, and wasn't sure how I wanted to use it but Brandi's recipe made up my mind for me.  I used peanut butter in place of almond butter just because I am a big sucker for peanut butter and chocolate chip anything.  They turned out delicious though, and the dough was very addictive.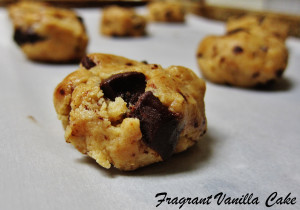 I used my home made chocolate chunks in these ones because I used all of the other chocolate chips in the banana chocolate chip cookies, so they were a bit runny once baked (because they melt very quickly) and I probably should have just pressed them in at the end...but who doesn't love gooey chocolate in cookies?!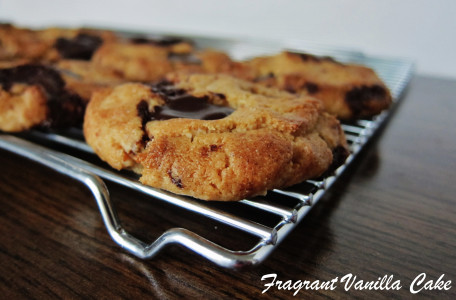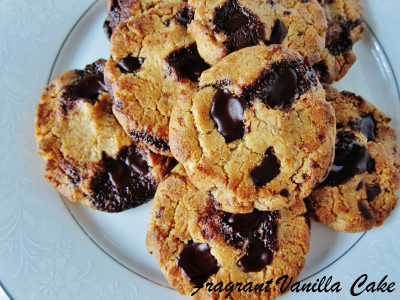 Vegan Banana Chocolate Chip Cookies
makes 1 1/2 dozen
Cookies:
1 cup coconut sugar
1/2 cup plus 1 Tbsp unrefined coconut oil
2 medium very ripe organic bananas (about 1/2 a cup), pureed (or mashed very well)
1 Tbsp pure vanilla extract
1/2 cup maple syrup
2 1/2 cups all purpose gluten free flour
1 Tbsp baking powder
1 tsp sea salt
1 12 oz vegan chocolate chips
In a large bowl, combine coconut oil with sugar and mix until well combined. mix in the bananas, vanilla extract, and maple syrup until well combined. In a smaller bowl, whisk together flour, salt, baking powder, then add to the large bowl, and mix until well combined. Mix in the chocolate and place in the fridge to chill until firm. To bake, Preheat your oven to 375 degrees. Line 2 large baking sheets with parchment paper. Roll balls into about 2 inch balls, and place on prepared cookie sheets a couple inches apart (refrigerate unused dough while baking the other trays). Bake for about 15 minutes, until puffed and just starting to brown slightly. Remove from the oven and let cool on the pan a few minutes, then remove to a wire rack to cool. Repeat with remaining cookies.
(Visited 67 times, 1 visits today)