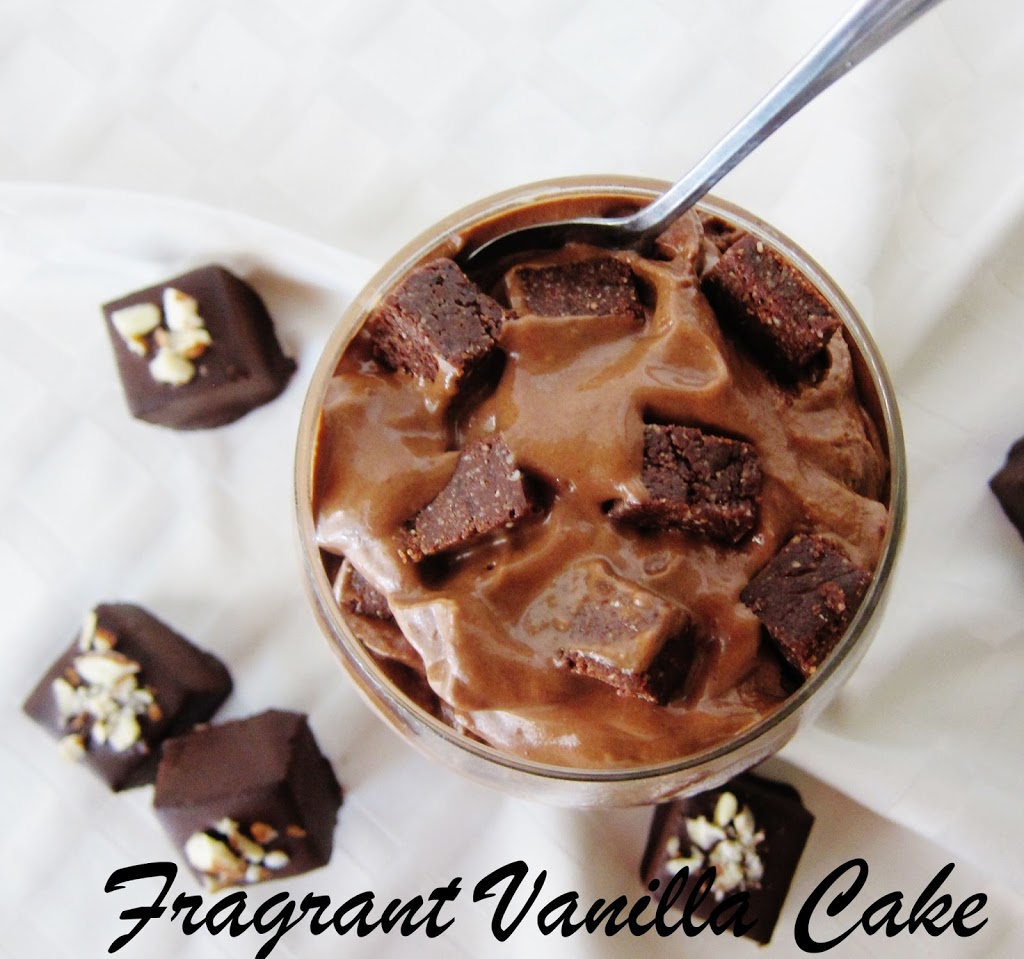 Raw PB Brownie Batter Blizzard
I had some left over raw brownies, and I could not think of anything more perfect to make with them than a blizzard. I admit when I used to go to Dairy Queen as a child my favorite flavors used to be more vanilla based such as cookie dough and strawberry cheesecake, but I was going to share this one with Eric and he is a chocolate sort of guy.

We were out going for a walk on a 90 degree afternoon a few days back and I asked him if he would like me to make him a blizzard when we got home. "Hell yeah!!!" Was his response. He got even more excited when I told him I was going to make him a Peanut Butter Brownie Batter Blizzard, since his favorite smoothie that I make involves PB and chocolate.
I used a chocolate banana soft serve base laced with peanut butter, cacao and a smidge of vanilla, sweetened with a little stevia (since it would already be so sweet with the other components). The ice cream base alone was good but it was pretty amazing when I stirred in the brownie bites. A bite of it was like "swimming in a cool chocolate river with a smile on my face" according to Eric. I would just say it was chocolate heaven and leave it at that. Sooo good!
Raw PB Brownie Batter Blizzard
Serves 3
Brownie chunks:
4 soft medjool dates, pitted (if not soft, soak them for 30 minutes in filtered water and drain well)
1 cup finely shredded dried coconut
1/2 cup raw almond flour
1/2 cup raw cacao powder
2 Tbsp raw coconut nectar or agave nectar
1/4 tsp sea salt
1 tsp pure vanilla extract
Ice Cream:
8 frozen bananas, cut into chunks
1/2 cup raw cacao powder
1/4 cup raw peanut butter
1 Tbsp pure vanilla extract
stevia to taste
For the brownie, combine the dates, coconut, almond flour, and cacao powder in the food processor and process until well blended and the consistency of flour. Add the agave nectar, sea salt, and extract and process until smooth and starting to hold together when squeezed (if it doesn't add a little more agave nectar). Turn out onto a foil lined sheet pan, and press into a square about 1 1/2 inches thick. Place in the freezer until firm, about 30 minutes. Once firm, cut into 1/2 inch squares and place back in the freezer while you make the blizzard.
To make the blizzard, combine the bananas, cacao powder, peanut butter, vanilla and stevia to taste in a high speed blender and process until smooth using the tamper to press the mixture down into the blade. Pour the mixture into a bowl, stir in the brownie bites and then pour into serving glasses. Enjoy!
(Visited 35 times, 1 visits today)