Raw Minty Brownie Bites
Since St. Patty's day is coming up, I have been in the mood for something minty.  Maybe it is all those Shamrock Shake commercials (just kidding, I don't eat McDonalds).  In any case, I made some fantabulous mint browines last weekend.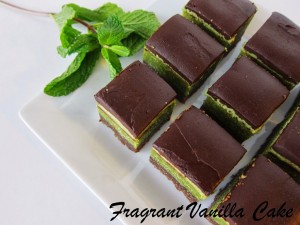 I admit I did not quite know what I was making when I started on them, as I was thinking mini minty green cakes with pale green mint frosting would be lovely, but they sort of evolved. I made the base for the cakes, a vanilla mint batter, but then tasted it and it was amazing.  I decided instead that I wanted some chocolate with it, like brownies so I omitted the extra ingredients that would have made cake and made half the batter chocolate but left half vanilla mint.  It was lovely, the two layers.  As I placed them in the dehydrator, I knew I wanted them to have some sort of frosting, but I was not sure what yet.
They smelled amazing as they "baked" in the dehydrator.  I decided that they needed more than just frosting. They would have a fudgy chocolate frosting alright, but I wanted to include a mint cream layer beneath it for extra deliciousness.  I knew they would be wonderful, as I had been sampling all of the components while I made them, but once I cut them and tasted them as a finished product I was amazed.  They were rich, they were minty and they were fudgy, simply heavenly!  I would much rather enjoy these than green beer on St. Patty's  Day!
Raw Minty Brownie Bites
Makes 9-12
2 1/2 cups raw almond meal*
2 1/2 cups dried shredded unsweetened coconut
1 cup sprouted buckwheat flour or additional coconut
1/4 tsp sea salt
1 tsp pure vanilla extract
1 tsp peppermint extract
1/2 cup raw coconut nectar
a few large handfuls organic spinach
1/4 cup raw cacao powder
mint cream:
1/2  cup raw cashew pieces (preferably soaked overnight)
2 Tbsp coconut water
1/2 cups fresh young coconut meat (or additional soaked cashews if not available)
2  Tbsp raw coconut nectar
1/8 tsp sea salt
1 teaspoon pure vanilla extract
1/2 tsp peppermint extract
1 small handful spinach
2 Tbsp raw coconut oil (warmed to liquid)
Fudge glaze:
1/3 cup raw cacao powder
1/3 cup raw coconut nectar
1 Tbsp raw coconut oil, warmed to liquid
1 tsp pure vanilla extract
a pinch sea salt
For the cake, combine the almond meal, coconut, buckwheat flour, and sea salt in the food processor and process until finely ground like flour. vanilla, coconut nectar, peppermint extract and spinach and process until smooth  and evenly blended. Remove half the batter from the food processor and set aside.  To the remaining half in the processor, add the 1/4 cup cacao powder and process until blended.  Place the chocolate dough on a lined dehydrator sheet, and use a rolling pin and your hands to create an even square about 3/4 inch thick. Roll the green dough out in the same fashion and place on top of the chocolate, pressing down so they stick together into one large piece. Dehydrate** at 115 for about 8 hours, until dried but still moist in the center.
For the mint cream, combine all ingredients except the coconut oil in the food processor and process until smooth.  With the motor running, add the coconut oil and process a minute longer. Spread the mixture over the brownies, and place in the freezer to set for about an hour.
For the fudge glaze, whisk together all ingredients in a bowl until smooth (adding more coconut oil if too thick, and more cacao if too thin) and a  spreadable fudgy frosting consistency.  Spread over the mint cream layer on the brownies, and place in the freezer for about 5 minutes. Cut into small 2x2 inch squares.
*I use soaked, dried almonds which have been ground in the food processor to flour, but you can also use almond pulp that has been dehydrated.
**If you do not wish to dehydrate and do not mind the brownies a little softer at room temperature, you can just refridgerate them for a few hours to firm up instead of the dehydrating.
(Visited 38 times, 1 visits today)