Raw Chocolate Pumpkin Pie Cups
What could be better than pumpkin pie?  Pumpkin pie dipped in chocolate.  Which is why I decided that I needed to make chocolate pumpkin pie cups. When it came to Halloween candy as a kid, I always went for the chocolate, spilling my candy stash out onto the floor and sorting it, giving all of the non chocolate items away (I have never been a fruity candy person). So when I thought about making my own candy this year for me and my family and friends to enjoy, it was all going to be chocolate. 
I decided to make something new, not inspired by an existing candy, but something my own.  pumpkin pie and autumn go hand in hand so I thought something pumpkin filled would be wonderful!  I was simply going to make pumpkin chocolate cups, but pumpkin pie sounded even more fabulous with the crunchy crust on the bottom for texture.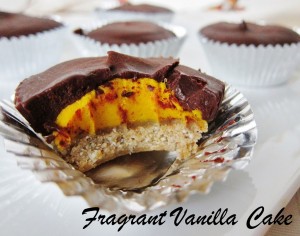 They were decadent, wonderful and delicious!  Like a mini pumpkin pie enrobed in rich dark chocolate goodness.  I know I will probably make something with peanut butter or caramel and chocolate too, but these are a pretty awesome change of pace from the usual.
Raw Chocolate Pumpkin Pie Cups
Makes 12
Crust:
1/4 cup soft medjool dates, pitted (if not soft, soak them for 30 minutes in filtered water and drain well)
1/2 cup finely shredded dried coconut
2 Tbsp raw sprouted dehydrated buckwheat flour
2 Tbsp ground flax seed
1/8 tsp sea salt
1/4 tsp cinnamon
Pumpkin Filling:
1 cup shredded carrots*
1/2 cup coconut butter
3 Tbsp raw coconut nectar or maple syrup
1 tsp fresh ginger
1 tsp cinnamon
1/4 tsp nutmeg
1/4 tsp cloves
a pinch sea salt
Raw chocolate:
1/2 cup raw coconut oil, warmed to liquid
3/4 cup raw cacao powder
1/4 cup raw coconut nectar or maple syrup
a pinch sea salt
To make the crust, combine all the ingredients in the food processor and process until finely ground and holding together when squeezed.  Place on a parchment lined counter, and roll out to 1/4 inch thick with a rolling pin.  Cut into 12 circles small enough to fit into small foil cups, place into the bottom of the cups and place in the freezer to chill on a plate or sheet pan.
To make the filling, combine all ingredients in a high speed blender and puree until smooth.  Spoon about 2 tsp onto each crust round, and place in the freezer to harder, about 30 minutes.
Meanwhile, to make the chocolate, whisk together all ingredients until smooth.  Once the pumpkin filling is hard, pour chocolate over each one to fill the cups.  Place back into the freezer until set, about 15 minutes. Store in the fridge.
*I use carrot in place of pumpkin in these because it is sweeter and easier to work with and you will never know the difference.  If you wish however you can use pumpkin or winter squash but you may need to sweeten a little more.
(Visited 67 times, 1 visits today)