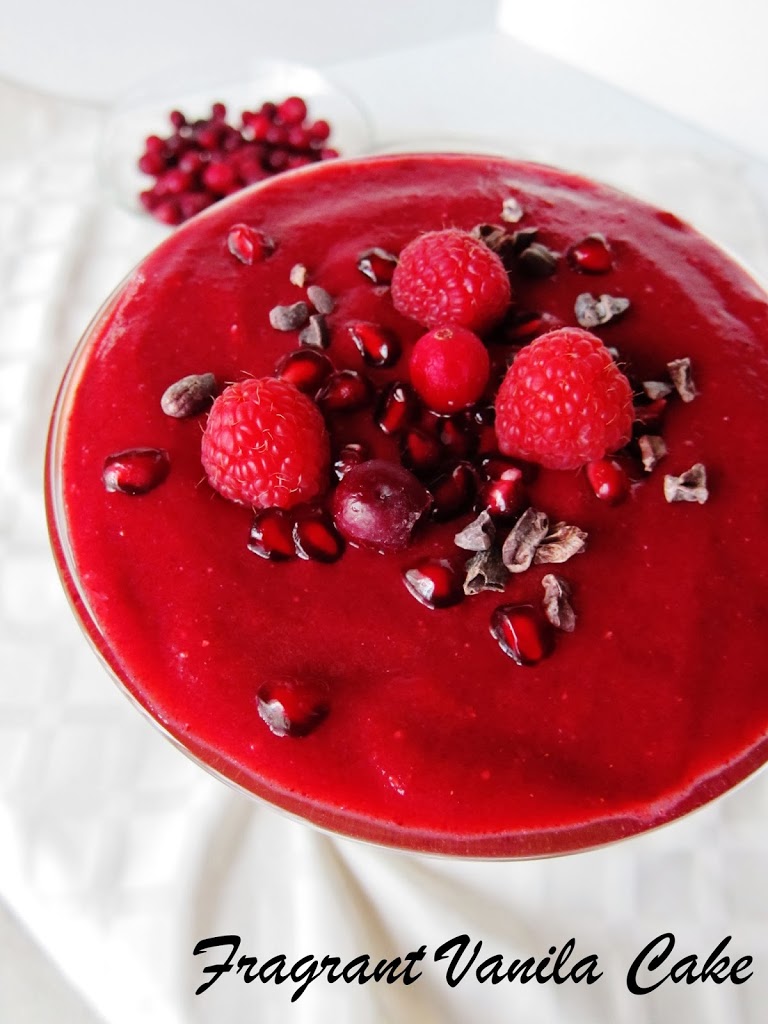 Winter Ruby Cacao Smoothie
I love my berries and light smoothies in the summer, but just because it is winter now does not mean I cannot enjoy them. I have been loving cranberries and pomegranates lately, and I have used them in a lot of desserts lately, so I got to thinking why not a smoothie? I do not always want something rich and sweet, most of the time I actually just eat fruit to get my sweet fix, and sometimes a satisfying smoothie is needed. I had some pomegranates, raspberries, and cranberries on hand, and so I decided to drink my anti-oxidants. I added some raw cacao powder to half of it to make for a slightly rich dessert while still being healthful.
The colors were beautiful, the berry layer a ruby red. I even served it in a martini glass, a delicious and healthful "cocktail" fit for a queen that would leave me feeling energized. I layered the chocolate and plain berry layers for variety, and topped it off with some "jewels" (the extra delicious berries) and some cacao nibs for a treat. If you are craving something sweet and unhealthy this holiday season, I recommend you whip yourself up one of these beauties instead. You will be happy you did, and your body will thank you.
Winter Ruby Smoothie
Serves 2
2 cups frozen organic cranberries
2 cups frozen organic raspberries
1 cup raw pomegranate juice
2 small organic apples
Stevia (optional)
1/4 cup raw cacao powder
In a high speed blender, blend everything except the cacao powder until smooth. Remove half the mixture, then add the cacao powder to the remaining mixture in the blender. Blend until smooth. Layer the cacao mixture and the plain mixture in a glass and serve!