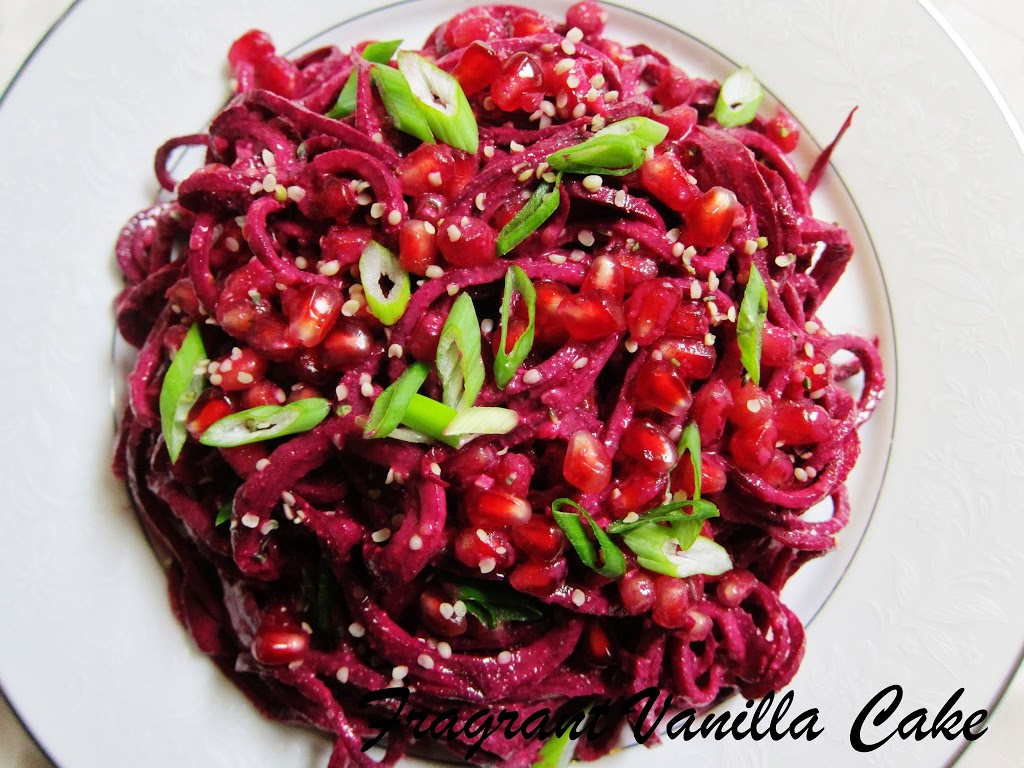 Festive Beet Pasta
It is no secret I love beets...in desserts like lovely raw red velvet, and in savories.  In fact, they appear in most of the salads I make during the week for dinner.  I love their raw sweet yet earthy flavor, and I have to say I enjoy them much better raw than cooked.  Last week, I had quite a few beets on hand, and I decided that they would make a beautiful raw pasta dish!  Why not make a shocking red pasta?  I made a cooked one once before I was raw with chevre and walnuts and it was beautiful so I knew a raw one would be even more so!
The beets I had were sweet and delicious even before I paired them with anything!  But I decided to dress them in a silky pecan lemon thyme sauce, and toss them with some sweet pomegranate seeds for crunch, scallions for a savory note and hempseeds for protein.  It may sound like an unusual combination but let me tell you, this stuff was addictive! Not only that, it looked like Christmas on a plate, very appropriate for this time of the year! If you love your beets as much as I do...you have to try this!
Festive Beet Pasta
Serves 2
Sauce:
3 Tbsp raw pecan butter (or raw nut butter of your choice)
2 Tbsp lemon juice
1 Tbsp filtered water (or as needed)
1 tsp thyme
1 garlic clove, minced
sea salt to taste
6 medium beets, spiralized
seeds of one large pomegranate
2 scallions, sliced
3 Tbsp hempseeds
Whisk together the sauce ingredients until smooth and well combined (adding more filtered water if you would like it a little thinner).  Place the beets, pomegranate seeds, scallions and hempseeds in a large bowl and toss with the dressing.  Serve!