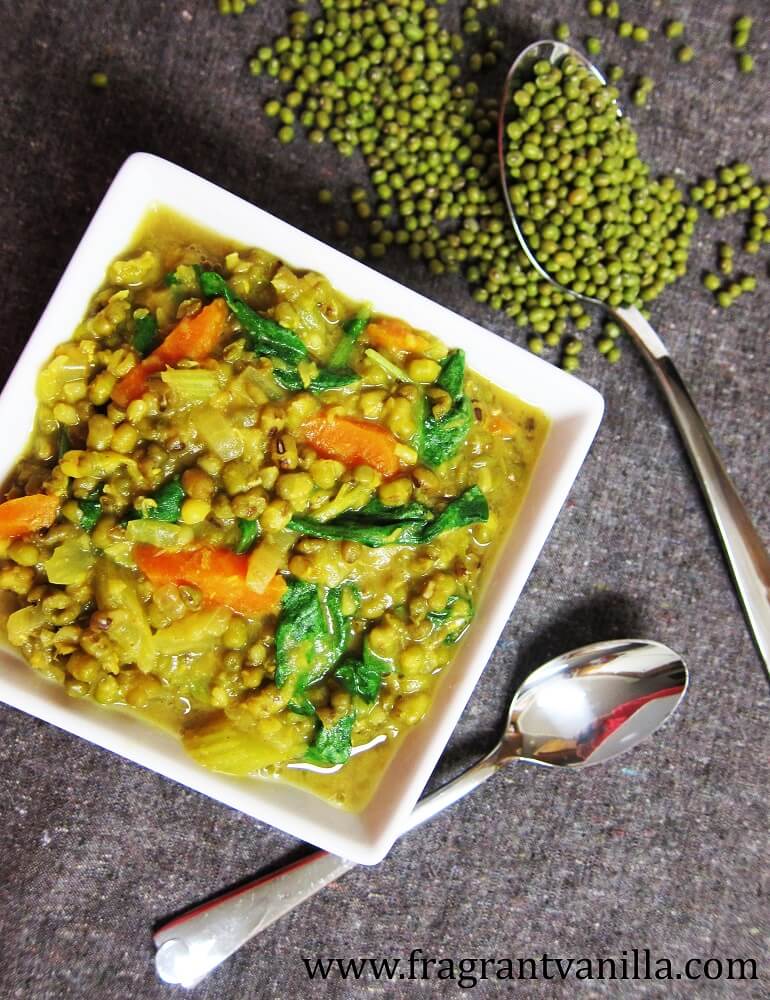 Curried Mung Beans and Greens Stew
It is the time of the year when the soups are flying out the door at my work practically by the gallon, because everyone wants something warming and healthy.  I don't blame them, I am the same way!  And our soups happen to be really good. You would think I would have had enough of the soup making at work, but I practically live on soups in the Winter at home too. They have to be easy to make soups though, something that comes together quick and easy after I throw it into the pot.  I have my favorites, but sometimes it ends up being a clean out the pantry and refrigerator kind of a deal.  That was the case a few nights back.  I had a bag of mung beans that I had bought for sprouting a while back that I wasn't sure what to do with, and I ended up making soup.  It was a really chilly day, like wind chills in the teens, so I thought I would make a warming curry soup.
My favorite soups lately are ones that I throw all of the ingredients into a pot, and it cooks while I get other things done around the house.  This ended up being one of those soups. I used the basic mirepoix veggies to start off (because I always keep them on hand), carrots, celery and onions. I then added some garlic (because every good soup needs it as far as I am concerned, and it keeps you healthy during cold season), and the beans.  Lastly, some warming spices.  Curry powder, cumin and turmeric.  It smelled sooo good!  I love having something aromatic cooking on the stove on a chilly Winter day!
It turned out even better than I imagined, and I would take this over takeout any day!  It is healthy comfort food that comes together in 30 minutes!  You can't beat that!  It is low in fat, high in protein and fiber and the type of thing that will fill you up but you still feel good after.  Not to mention it is super cost effective to make, which is important to me, because I  like to try to save money.  If you are looking for something new to try, give this a go!  I hope you are all staying warm and having a wonderful week!
Curried Mung Beans and Greens Stew
Serves 1-2
Ingredients:
2/3 cup mung beans
2 stalks sliced celery
1 carrot, sliced
1/4 cup onion, diced
1 clove garlic
1 tsp mild curry powder
1/2 tsp cumin
sea salt to taste
red pepper flakes to taste
3-4 cups filtered water
1/4 cup coconut milk
2 good handfuls organic kale or baby kale
Instructions:
Combine all ingredients and 3 cups filtered water in a medium pot, and bring to a boil.  Lower to a simmer, and cook until the veggies and mung beans are tender, about 30 minutes adding that additional cup of water along the way if needed if the beans absorb too much.
Remove from heat, and stir in coconut milk and kale until just wilted.  Enjoy!