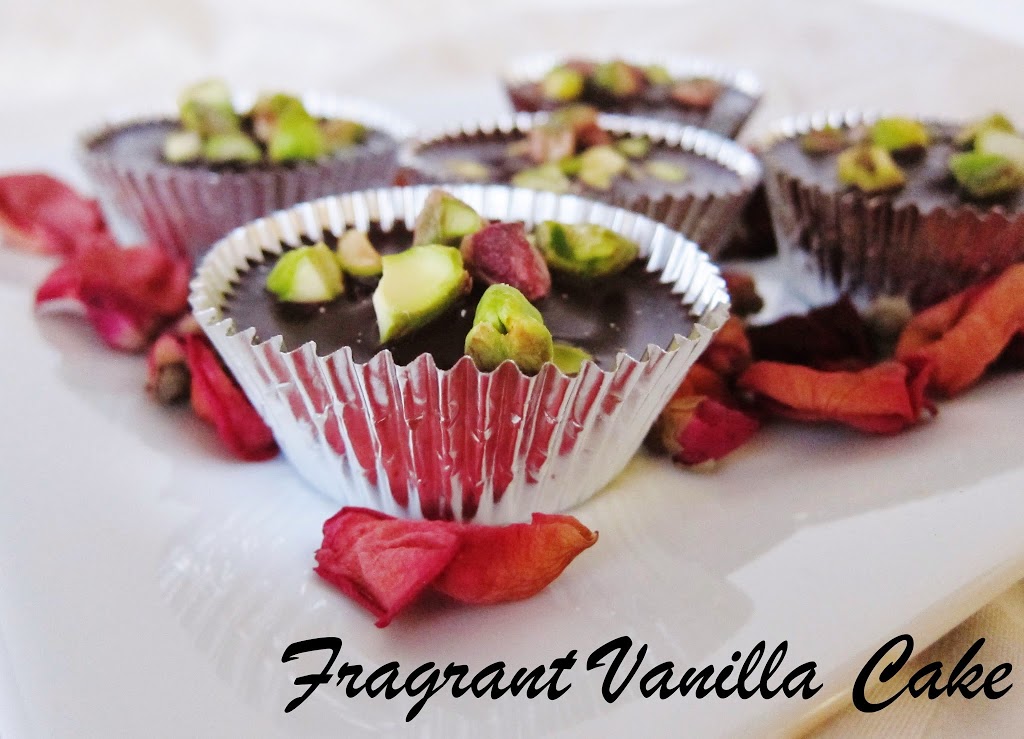 Cherry Rose Chocolate Cups
I loved Valentine's Day as a child. Not because of the whole love aspect of it...I mean, after all, boys were not even in my mind as a 5th grader. No, I loved it because of all of the pretty pink decorations, making fun crafts and candy! The artsy girl I have always been was all about it. Cutting out sparkly pink hearts to give away (probably to my Mom or Dad at that point) and receiving candy was the high point of this time of the year! Although I accepted all candy, I admit I thought those conversation hearts were gross. Sorry if you like them, but I just thought they were cute not edible. Chocolate however was another story. I usually got a box of chocolates from my Grandmother, who was the most festive woman you will ever meet when it came to holidays.
I sprinkled them with pistachios for color and crunch, and they were simply heavenly. If I got a box of these I would get excited. So much better than a bouquet of flowers any day. Who doesn't love the gift of raw vegan chocolate?!
Raw Cherry Rose Chocolate Cups
Makes 8
8 mini chocolate cup tins

Chocolate:
1/2 cup raw cacao powder
1/2 cup coconut oil, warmed to liquid
1/4 cup raw coconut nectar or your choice of liquid raw sweetener
a pinch of sea salt

Filling:
1/3 cup raw coconut butter (not oil!), liquified
2 Tbsp tart cherry juice or regular cherry juice
1 tsp pure vanilla extract
1/2 tsp rosewater
1 Tbsp raw coconut nectar or your choice of liquid raw sweetener
Raw pistachios, chopped for topping
To make the chocolate, combine all ingredients and whisk together until smooth. Take your chocolate tins and fill half full with chocolate. Place in the freezer to harden.
Meanwhile, whisk together filling ingredients until smooth. Once the chocolate has hardened, take your filling, and spoon one mound into each tin on top of the chocolate. Place in the freezer to set for about 5 minutes. Top with remaining chocolate so it is even with the top of the tins, and sprinkle with pistachios. Place in the freezer to harden, and enjoy! Store in the fridge.



(Visited 24 times, 1 visits today)